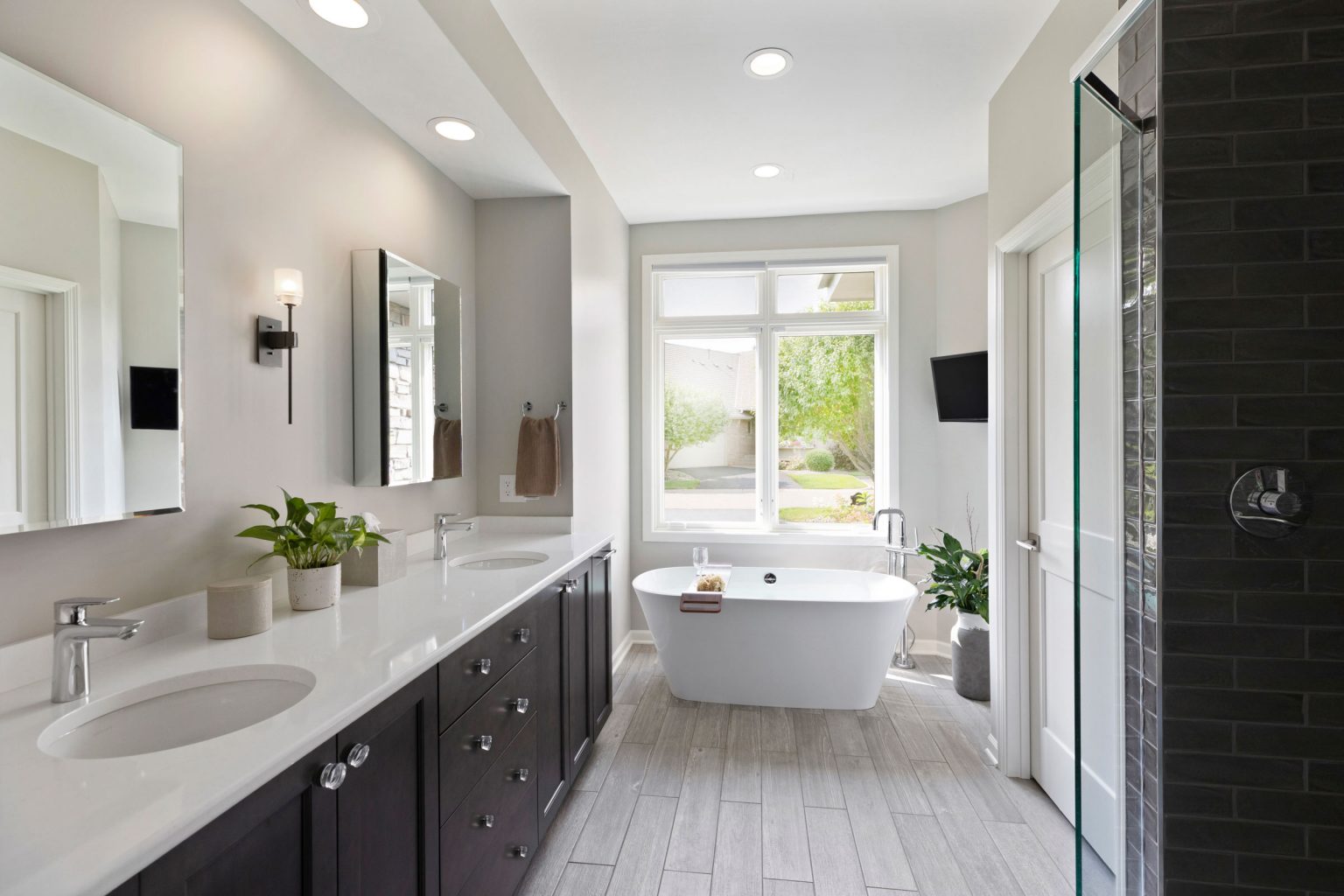 Bathrooms have always been a place to retreat and relax after a busy day, and over this past year, a lot of us have been needing such a place. As we look towards a new year, we look to what's new in bathroom design and innovation. Some of the most popular trends we are expecting to see are homeowners changing the layout of their space, utilizing design styles that promote a clean and calm environment, and integrating newer technology that promotes healthy living and conservation.
Layout
When we look at bathroom layout, we are seeing homeowners opting to increase their bathroom spaces when possible. A large driver for this change is homeowners wanting to remove tubs to increase shower sizes as well as removing walls to connect their bathrooms to closet or dressing areas. There are still those that prefer to have a freestanding tub for soaking and relaxing as well as a large shower for everyday bathing.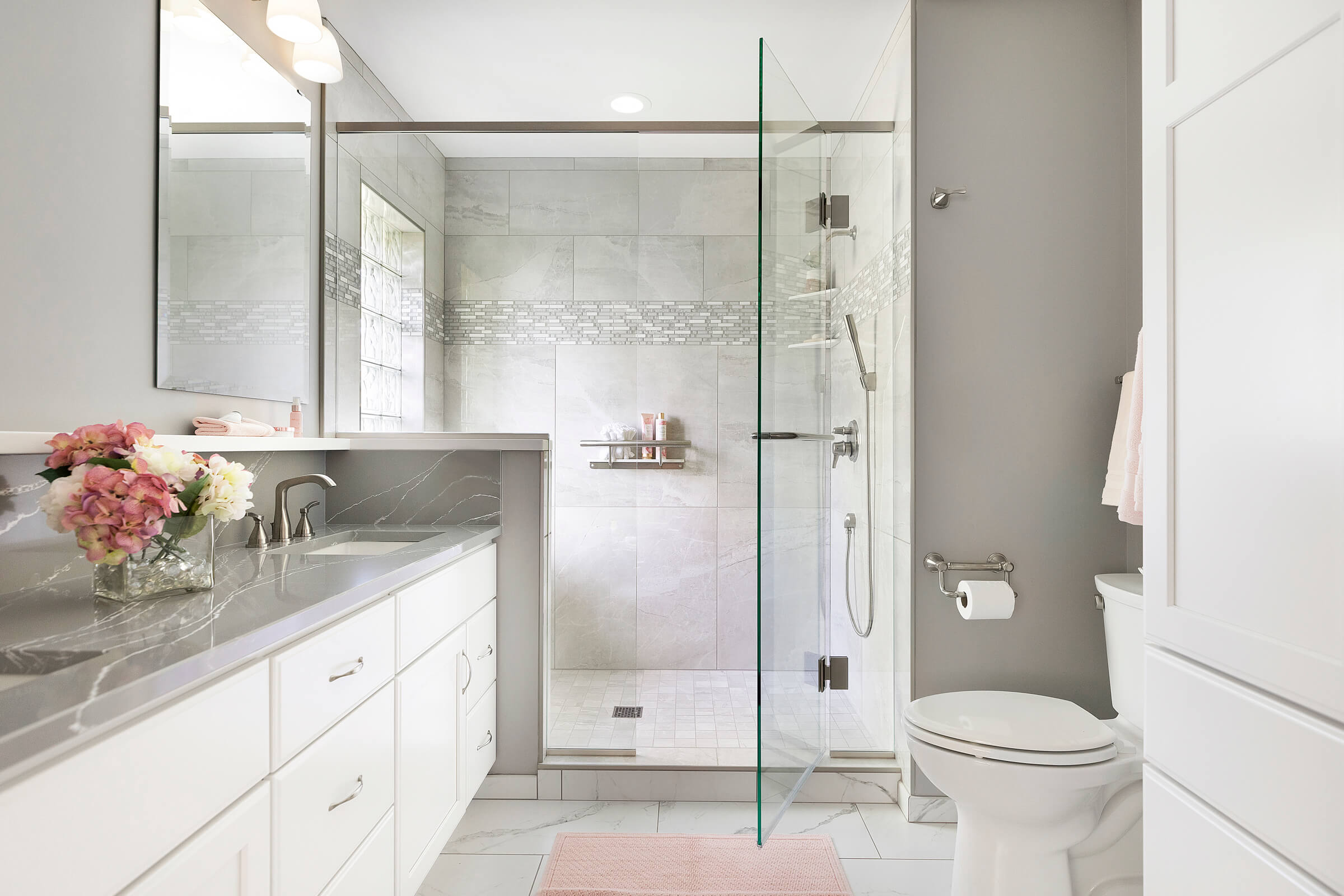 Technology
We're seeing a lot of new and exciting technology hitting the bathroom this year and in the next few years! Some of the top takeaways will be better temperature control systems for in-floor heating elements and showers, water conservation technology, motion-sensor controls for lighting and leak detection sensors that can sync to your phone. Since the bathroom is a place for relaxation, voice-activation isn't as important here as it is in a kitchen or other living spaces so we will be seeing more touch-less, motion and bluetooth technology in bathroom designs. Bidets and smart toilets that can monitor healthy habits and feature heated seats and other technology are also gaining popularity in bathrooms.
Design
When it comes to the design of the bathroom, we will be seeing more styles that promote a clean and calming feeling. The spa-like atmosphere is especially prevalent with more blue & green tones, incorporating wood tones, and adding elements of biophilic design to bring the outdoors in and connect with nature. We're likely to see simpler lines and a more minimalistic approach to keep the space easy to clean and uncluttered. We are also seeing homeowners blending different styles to create their own. For instance, a modern bathroom may have organic elements but also feature a touch of Mid-Century modern as well. We've also seen a trend of incorporating warmer, pastel tones to promote relaxation and feel welcoming to the user.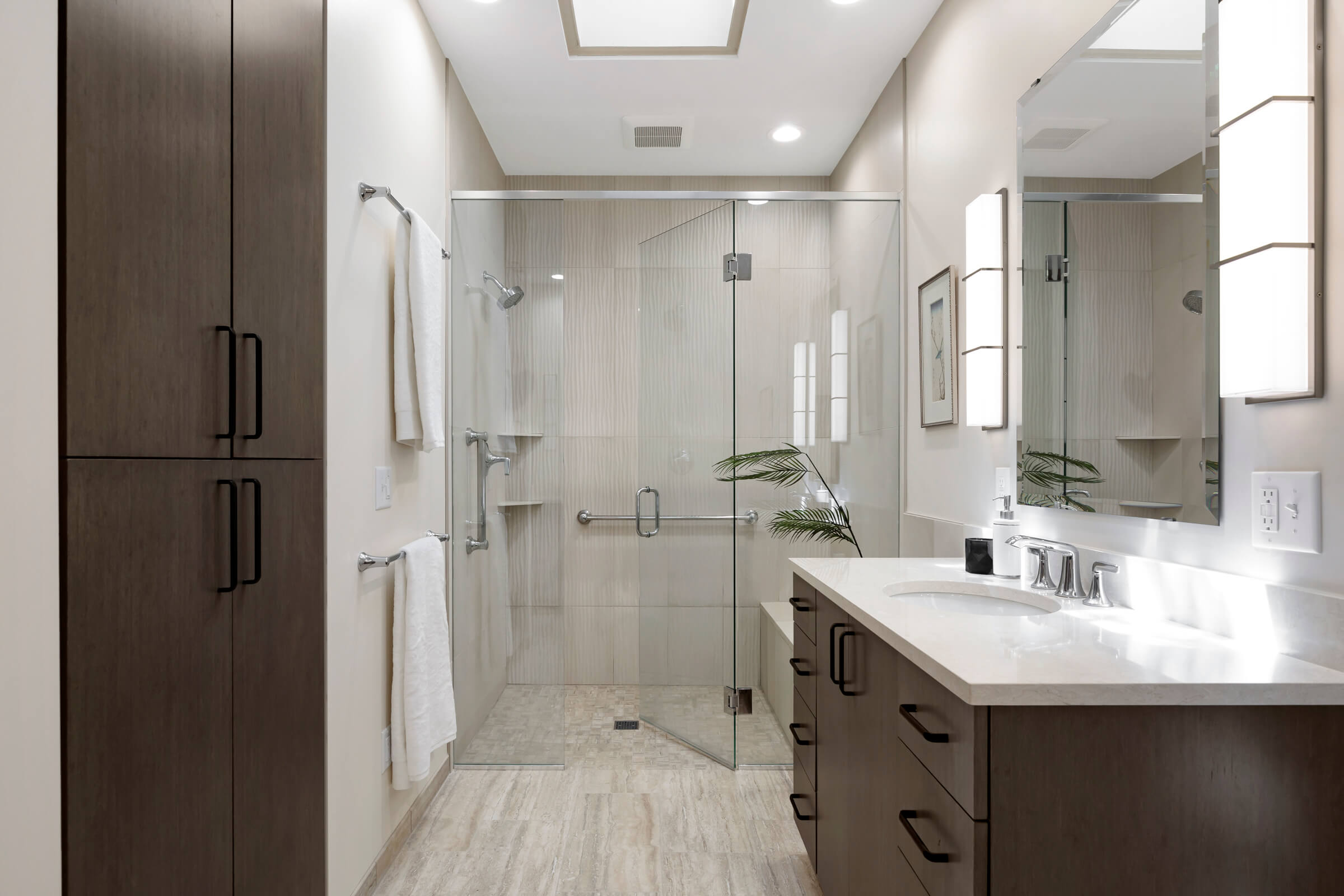 Materials
When it comes to materials, lighter tones are still a top choice. Quartz countertops are still the most popular choice for bathrooms for their durability and ease of maintenance. When it comes to vanity materials, painted and stained finishes in a flat panel or slab door style are going to remain the most favored. We are seeing that medium tones and lighter tones are still the most used in bathroom designs and we are also expecting floating vanities to become the most popular choice. Storage is key in bathroom design so we will continue to see linen storage and medicine cabinets be a top priority for homeowners. We are seeing clients adding electrical outlets in medicine cabinets and vanities to keep electric toothbrushes and hair tools plugged in for ease of use. White, undermount sinks in a variety of materials like vitreous china, porcelain and composites are still the most popular for bathroom sinks. When it comes to faucets, matte and brushed finishes will be the most popular in black, nickel and some chrome looks. Porcelain or ceramic tiles are still going to be the most popular flooring material in the next year with more homeowners opting to add heated floors as well. When it comes to showers, we will be seeing more homeowners gravitating towards large tile, slabs or large subways tiles for shower surrounds.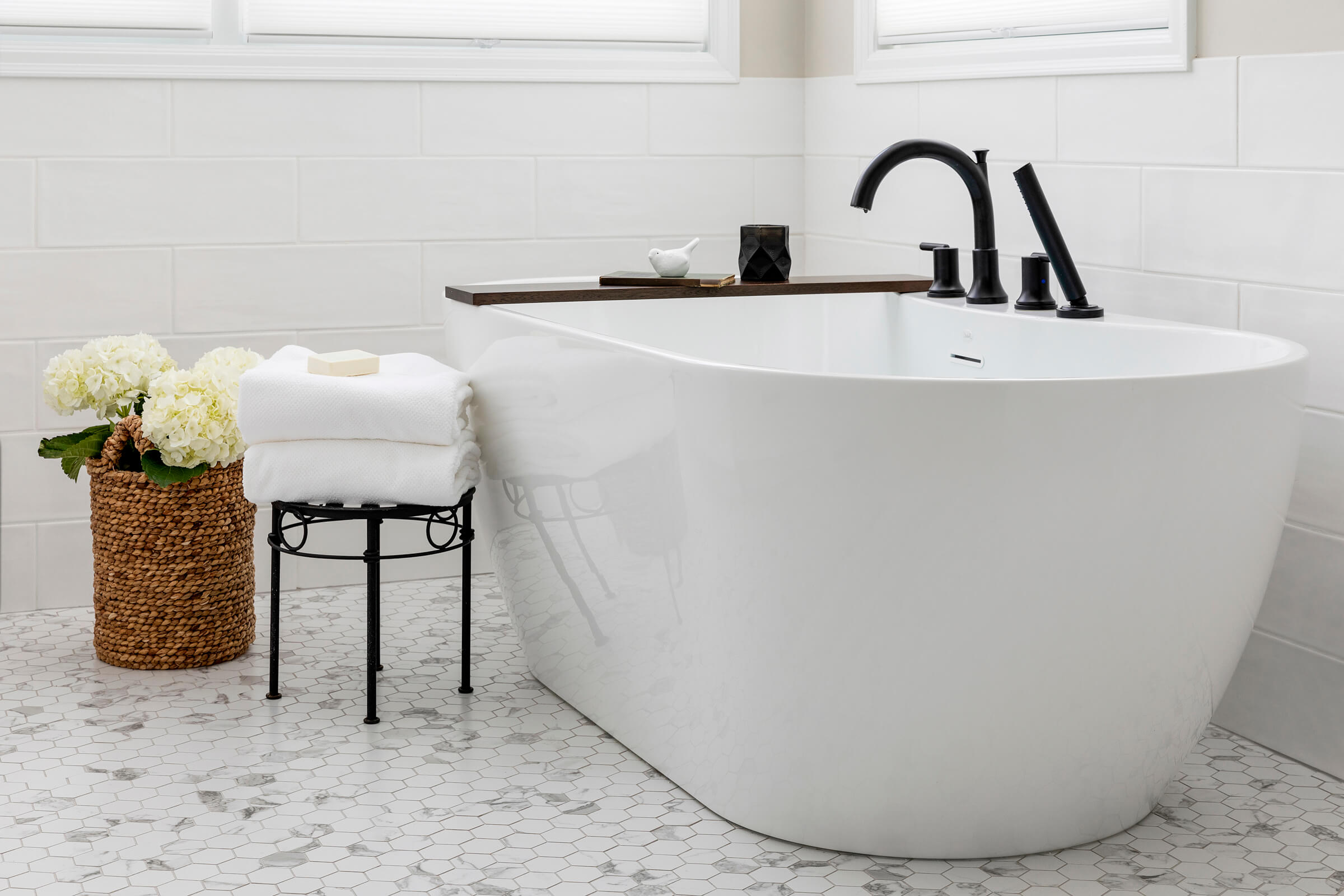 Fixtures
When it comes to bathroom fixtures, we are seeing homeowners of all ages looking to features like bench seats and zero clearance entries in showers to the integration of grab bars throughout the bathroom that promote "Aging-in-Place" principles. As mentioned earlier, we are noticing homeowners opting for larger showers that can accommodate two people and feature multiple showerheads and even body sprays. For those interested in a tub, we are still expecting freestanding or soaking tubs to be the most popular and be featured in a solid surface, composite, resin or acrylic material. Some other items we are expecting to be popular are smart toilets that feature heated seats, bidet features and can help reduce your toilet paper dependency as well as water efficient faucets and more LED lighting features.
Get Started Today
As we move into 2021, there are a lot of things in bathroom design to get excited about. From more functional layouts and larger showers to the introduction of new technology and biophilic elements that will bring the spa into our homes. If you are interested in implementing any or all of these trends into your next project, contact us and one of our talented designers would love to make your dream a reality.