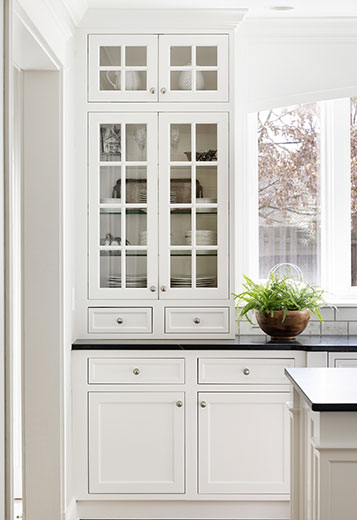 The question that all clients want to know is not a simple one to answer. With so many factors that go into a kitchen remodel, the overall cost can vary significantly depending on the scope of work to be completed and the finishes to be installed. Are you replacing cabinets and countertop? Are you changing your flooring material? Do you want to expand the room by removing a wall? All of these things impact the overall price of the remodel.
At Crystal Kitchen + Bath, we strive to provide you with information on average investments and factors that affect the overall cost. Let's look at the definition of an "average investment". The national "Remodeling Magazine" compiles an annual "Cost vs Value Report" each January for our region. The report breaks down an average remodel of various rooms in the home, including the kitchen. Pricing for the kitchen is broken into three categories – all are based on a 200 sq. ft. room.
Minor Kitchen Remodel – $22,000, recouped at resale 78%
New countertops, backsplash, plumbing fixtures and maybe some new appliances. Existing cabinets to remain.
Average Kitchen Remodel – $64,000, recouped at resale 66%
New cabinets, plastic laminate countertops, mid-range appliances and plumbing fixtures, resilient flooring and paint walls.
Major Upscale Kitchen Remodel – $128,700, recouped at resale 60%
New Cabinets, natural stone or quartz countertops, higher end appliances, wood flooring, new lighting, tile backsplash and some minor structural changes.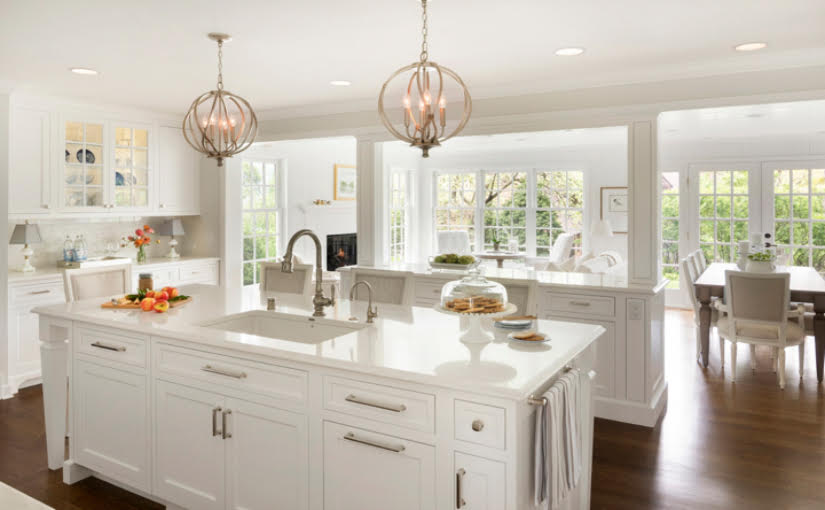 Cost Difference Makers
Two main factors impact the overall cost of a remodel: Scope of work and products & materials.
Scope of work applies to all labor and any structural changes made to the kitchen. Do you want to remove walls? Relocate your sink? Add a window? Replace flooring and new appliances? The more you are changing, the higher the price of your remodel.
Labor is about 55 percent of your kitchen remodel budget.
The size of your kitchen and bath may not make a substantial difference in the price of labor due to the fact that it still requires the same number of subcontractors in a small kitchen as it does for a larger kitchen.
A home built in the early 1900s will cost more to remodel, than a home built in the 1980s. The reason why that is an older home will require more mechanical work to bring it up to current building codes to complete the remodel.
Product and material choices actually affect your overall cost the most. The good news is that you have control over these choices. This is also the major factor that tends to sneak up on homeowners. Browsing on Houzz or Pinterest, homeowners find designs and features that they love without understanding how they impact the cost. Product accounts for the main difference you see between the average and the upscale kitchen remodel cost in the report. We have compiled some of the most cost-influential factors below to help homeowners collect inspiration with an enlightened eye.
Cabinet Construction: Customization, wood species and finish choices can vary the cost of a project by 30 percent or more. Inset cabinet construction costs more than full-overlay door construction. The number of cabinets in the new design will impact cost. A galley kitchen typically has fewer cabinets than an L-shaped kitchen with an island.
Countertop Selection: Choosing a plastic laminate material (Formica), solid surface material (Corian), or standard stocked granite versus a unique quartzite, rare natural stone or quartz (Cambria) will impact the cost. The square footage of material, amount of finished edges and the number of cut outs, also affect the price. A matte, honed, antiqued or leather finish on stone or quartz will add to the cost.
Appliances: Do you want fully integrated appliances, such as Subzero or Wolf versus more free-standing appliances, such as Whirlpool? The number of appliances in the kitchen will add costs, such as having a separate cooktop and wall oven versus a range.
Flooring: Solid ¾" wood floor or tile is more expensive than a vinyl floor.
Plumbing Fixtures: Apron front sink costs more than a drop-in sink. The new gold and matt black finishes cost more than polished chrome.
Backsplash Tile: Handmade tile with a custom design cost more than a simple subway tile.
Finally, all these pieces fit together to account for the difference in the cost you see in the Cost vs Value report.
Who is Crystal Kitchen + Bath?
Crystal Kitchen + Bath have been in business for over 45 years with our focus on remodeling. Although we have completed many kitchens and bathroom remodels, we also do other rooms in the home such as, laundry, mudrooms, home offices, lower levels and family rooms. Our award winning design staff is here to help you create a one of a kind space that is functional and you feel was worth the investment.