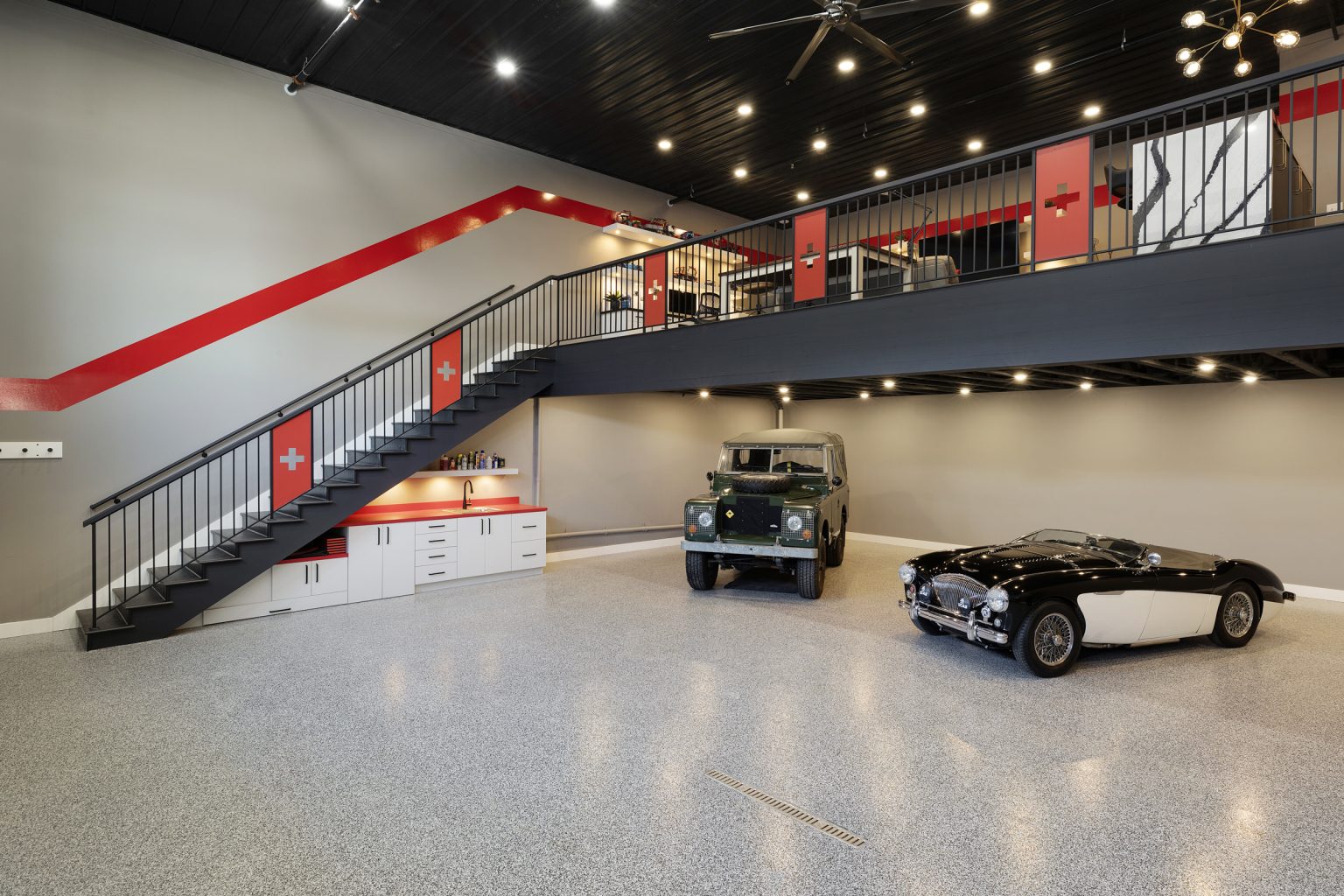 What do you do when you have antique or luxury cars that do not fit in your home garage? You purchase a Garage Condo! Auto Motor Plexes have popped up in many locations around the Twin Cities as the new Man Cave. The "Condo's" are available in many sizes, they are two stories and you have the ability to make them into anything. Autoplexes are generally utilized by auto enthusiasts to store, maintain, and build their auto collections but they have also become places to entertain or use as a secondary office.They are starting to become a place to hang out with fellow enthusiasts in a time when it is much needed.
We recently had the pleasure to design an Auto Motor Plex for our client's in Medina, Minnesota. The clients decided to split the two story space into multiple functions with the upstairs as a living space (with office, living, kitchen and bathroom) and the lower level to work/store his cars (an Austin Healey and a vintage Land Rover) and to display a large toy train.
This unit is the mid-size that the facility offers with plenty of space to create distinctive functions. In the lower area, there is space for the client's cars which also includes a custom storage and workbench area that houses a car jack, tools, and a space for off-season tires when needed. This workbench area also features a stainless steel sink for easily cleaning up and red laminate countertops for a splash of color and durability. The flooring is from Garage Floors and features in-floor heating and ties into the color scheme. This space will also be used for the clients expansive and realistic Swiss train display.
The space has a Swiss theme to pay homage to the owner's heritage with the red Swiss flag in the custom stair railing from Loftus Ornamental Iron, and the train mural in the bathroom. A red strip running around the entire unit and red gloss, acrylic panels on the kitchenette backsplash and island help to tie the space together The cabinets are a combination of matte black paint and high gloss wood and white, with Cambria countertops. The upper mezzanine level was a blank canvas and ready to be turned into a multipurpose space. The owner does part time consulting in his retirement, so he wanted a functional desk with plenty of storage. He also enjoys assembling robotic Lego cars and trucks, with a large table as a workbench and many lite floating shelves for display, this became a perfect place to work on his hobby (bonus it doesn't have to be put away to use the space for other things.)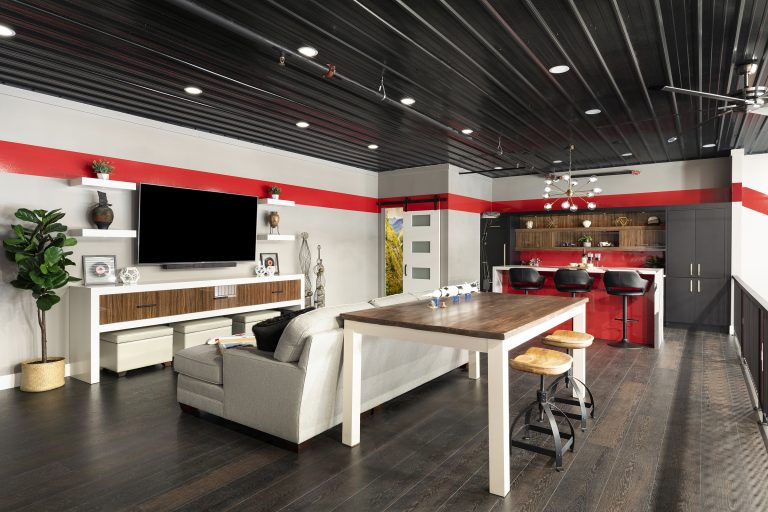 Also in the mezzanine level is an entertainment center with a TV, stereo equipment and "L" shaped sofa. Under the TV console is open for 3 ottomans. Perfect place to watch a movie uninterrupted. The TV console is made of white high gloss material with dark wood grained drawer boxes. The console measuring 117" x 36" x 20" came as one piece and weighted 570lbs, we needed to have a forklift, lift it to the second floor, put on dollies and rolled back into place.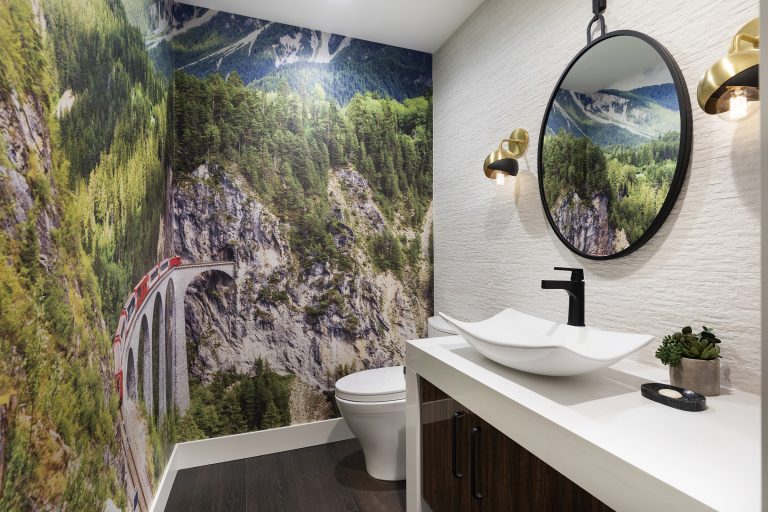 The upstairs bathroom features a beautiful mural of a train coming through a mountain tunnel in Switzerland. The mural was wrapped on two walls and the other walls have a heavily textured tile to resemble ledgestone in the mountain side. The homeowner chose to have a powder bath with vanity and stool, not needing a shower (any clean up needed would not happen at the condo). The vanity is of dark gloss wood, and a white Cambria countertop with 4" thick edge and waterfall leg. Free flowing shaped vessel sink and faucet and a gorgeous round mirror and gold/black wall sconces. The door to the bathroom is a sliding Barn door, it has 4- frosted glass windows. The kitchen includes a Fisher & Paykel refrigerator/freezer and dishwasher drawer, and Bosch speed oven. The cabinets are painted black matte with the gloss wood grain accents in shelves and the red acrylic gloss panels in the backsplash and island. The kitchen is perfect for entertaining a 42" ht island is great for counter stools and keeps guests out of the kitchen. The "pantry" has a custom roll out shelf for the Nespresso machine and storage for wine which is hidden behind pocket doors.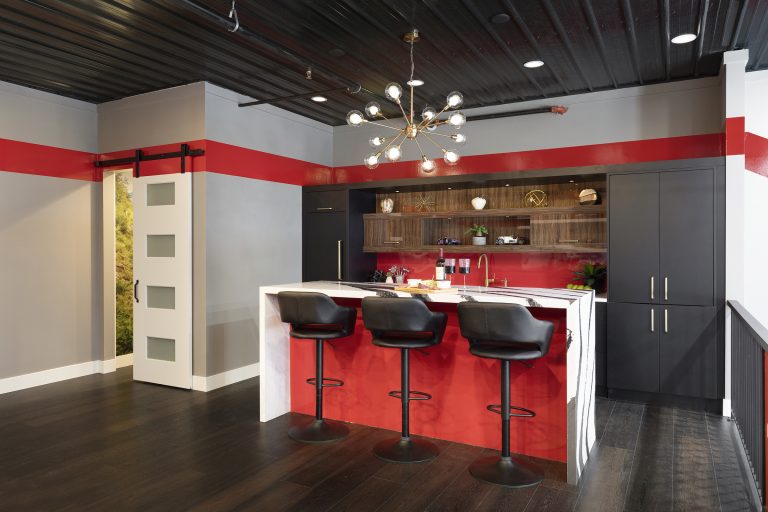 This is the perfect "man cave" for whatever your hobbies are. Whether you have a car collection you are trying to store or maintain, are looking to add a secondary office, or even just looking for a unique place to entertain, an autoplex can provide the space to do so and we here at Crystal Kitchen and Bath can help you customize it and add your own personal touches. Contact us today to get started!