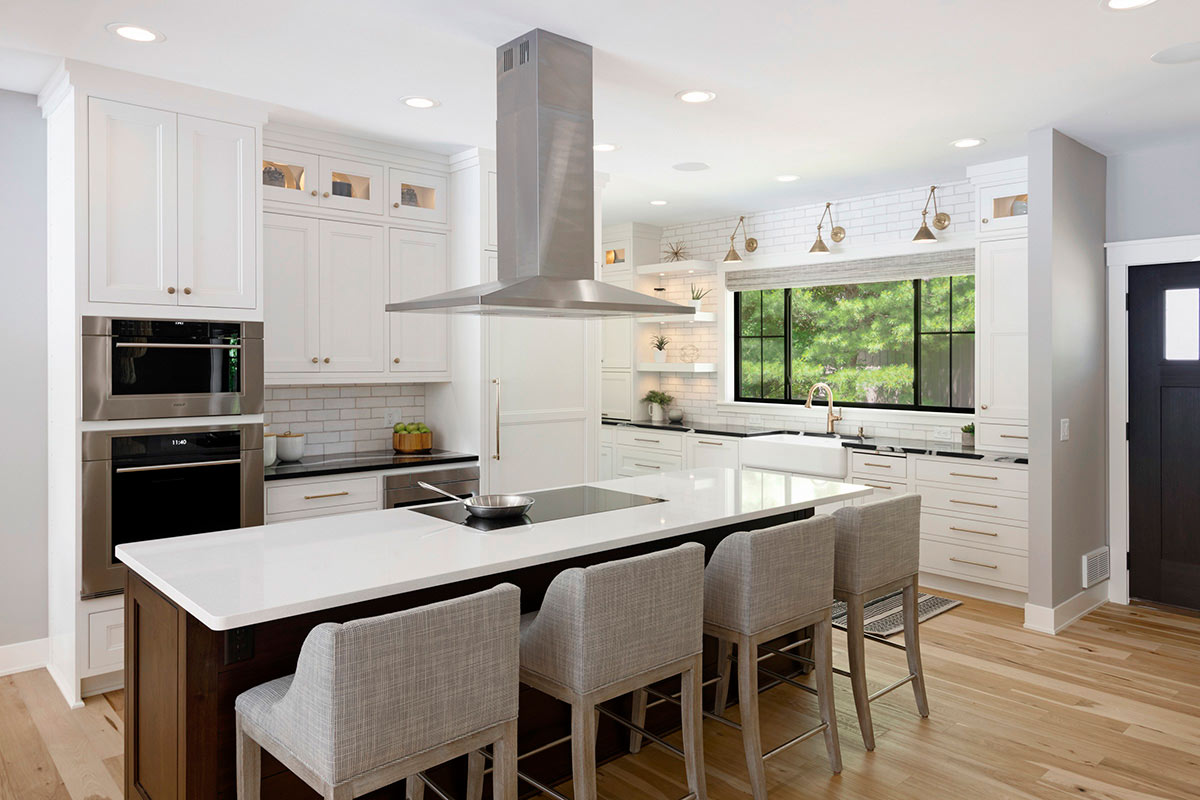 As we are all excited to say goodbye to 2020, we are equally as excited to be looking towards the future in the Kitchen and Bath industry. Large islands and white cabinets are still dominating the market but we are seeing such trends as more integrated technology, clean and modern lines, and even natural and recycled materials making waves in the years to come.
Layout
As we look at design and layout, medium-sized kitchens are still the most popular but we are seeing clients opting to increase the size of their spaces to accommodate the layout. We are seeing L-shaped layouts featuring a large island (about 24-35 square feet) being the most popular. Kitchens have become a multi-functioning space with more of us working from home and children doing distance learning. Clients are opting for larger islands in place of dining tables. Dedicated work spaces and homework spaces are also gaining popularity. With some people eating out less, we are also seeing clients interested in creating dedicated meal prep spaces in the kitchen as well.
Design
Simple and cleaner lines are also becoming more popular. Contemporary styles are becoming increasingly popular as they offer a simplistic, more European style and scale. Transitional style is still popular as it allows those that live in older homes to make modern updates while respecting the style of their home. Biophilic design and natural elements are also becoming popular as they utilize recycled, organic materials and plants to connect the user to nature which aids in overall health and well-being. Think "living" walls and indoor herb gardens as part of this as well as utilizing colors found in nature like deep greens and blues. White is still the most popular color in kitchens with gray following behind. We are seeing warmer tones like taupe and beige coming back as well as blues, blacks, and greens being used more frequently.
Technology
We are seeing clients integrating more technology into their kitchens as well, whether it be dedicated charging stations or bluetooth appliances. While standard hands-free faucets are still gaining popularity, there are now faucets that can heat water to certain temperatures and calculate quantities using voice-activation technology. We are also seeing kitchen faucets that produce ozonated water which aid in personal health and wellness as well as kill bacteria and viruses. Charging stations for phones and tablets are also becoming popular and can be integrated into a drawer or shallow cabinet with ease. Installing an emergency power source for the refrigerator in case of power outages to help save food is also growing in popularity.
Materials
Quartz countertops in lighter tones continue to dominate in popularity with simplistic edge profiles. Waterfall edges are becoming increasingly popular especially in contemporary and modern designs. We are also noticing clients using a different color, pattern, or even material for island tops to create a unique focal point in their kitchen. When it comes to backsplash materials, more people are opting to use the same countertop slabs as well as other slab materials like porcelain or solid surface materials. Long subway tiles continue to be popular backsplash material as they are a classic look in an updated size. We are seeing both painted and stained cabinetry for kitchens in the future with many designs featuring a different color on the island. Stainless steel sinks in a single bowl configuration is foreseen to be the most popular choice in sinks. For kitchen faucets, matte or brushed finishes will be popular in a variety of materials including stainless, black, nickel and pewter. When it comes to kitchen floors, we are seeing hardwood and engineered woods still being the most popular with Luxury Vinyl planks and porcelain/ceramic tiles following close behind.
Appliances
Appliances are a large component in any kitchen design. We are expecting french-door refrigerators that are flush/counter-depth, integrated or built-in to be the most popular in the next few years.We are also seeing stainless being the most popular finish for refrigerators with panelled refrigerators that match cabinetry following closely behind. Gas and induction cooktops remain the most popular in the standard 30" width and stainless finish. Steam ovens are also gaining more popularity as they take up less space than a second full-size oven and offer a multitude of cooking modes that are a healthy alternative to microwaves. Although, microwave drawers are becoming the most popular option in microwave configurations. When it comes to ventilation, hoods are becoming more decorative and a focal point in the kitchen, often in stainless steel or a wood finish to match or compliment the cabinetry.
COVID-19 Impact on Kitchen Design
COVID-19 has had a substantial influence on kitchen design. Many homeowners have a greater desire to invest in their home, especially when it comes to easy-to-clean surfaces, flexible workspaces for adults working from home and kids doing e-learning, dedicated spaces for charging technology, and better storage solutions. Some other influential items we have noticed due to COVID-19 are homeowners wanting larger pantries to store more essentials and make less trips to the store, sourcing more locally made products, creating spaces to accomodate more home entertaining since we are going out less.
Get Started Today
Now is a great time to start planning your remodeling projects. Let us help you design your dream kitchen, bathroom, home office or bar now so once all of this is over, we can start construction. We offer appointments in our showroom and virtual meetings so you can go through the whole design process in a safe environment. Contact us today and one of our talented designers will help make your dream kitchen your reality.