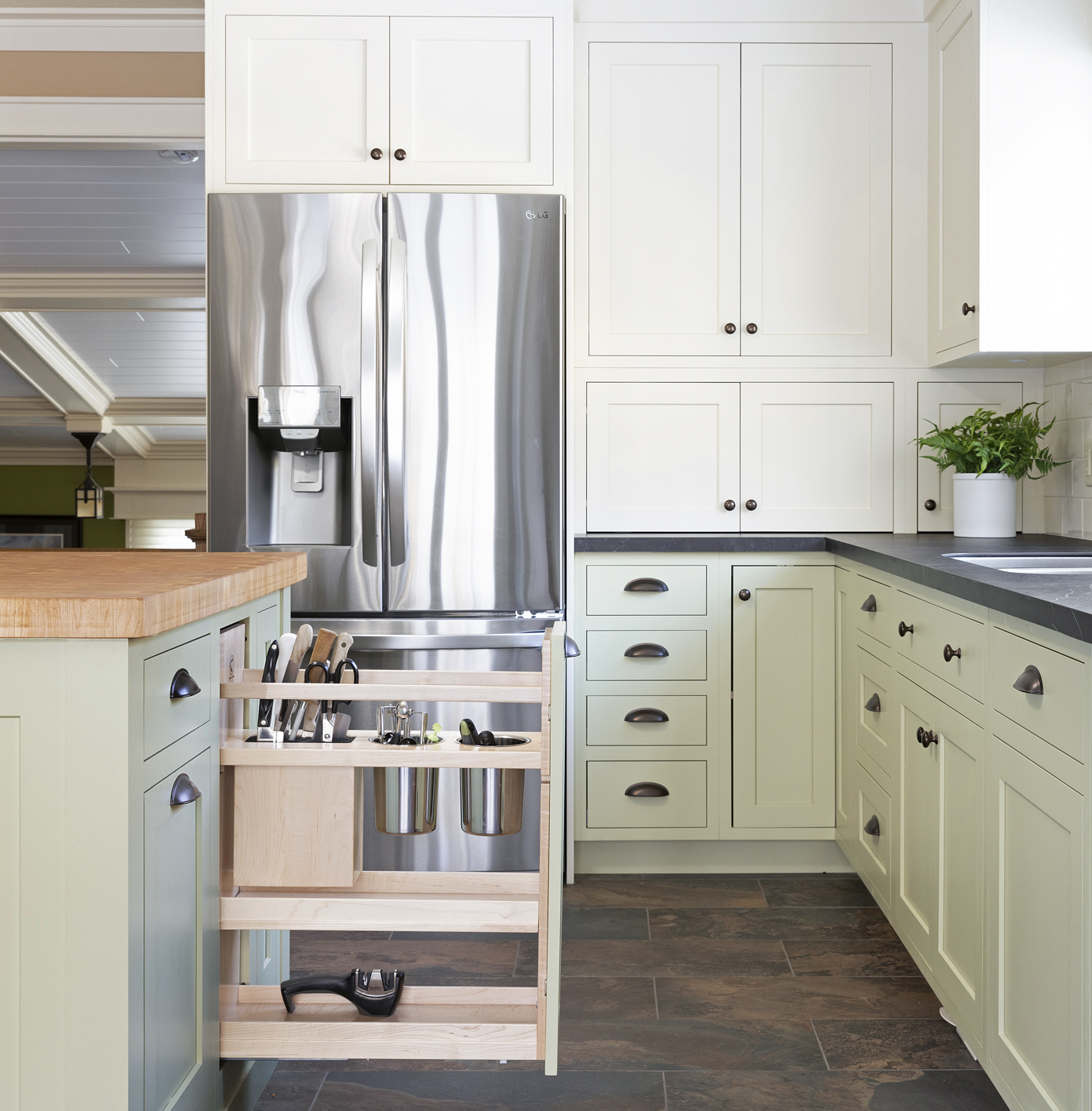 Kitchen Organization Pointers Straight From The Experts  
Everything in life is better when it is organized. Imagine trying to park your car without the lines in the parking lot.  Sheer chaos.
At Crystal Kitchen + Bath, when we are working with you to design your dream house, we will ask you a lot of questions. We want to know how YOU use your space to ensure your new kitchen will function best for you. We help you organize your kitchen to so it's functional, easy to work in, and enjoyable to spend time in.
Evaluate Your Kitchen's Needs
As a kitchen designer, I start with making a list of everything you want to store.  We use the design elevations to start placing those items. Start with placement of plates, bowls, glasses and mugs. Put like minded things together, for example all baking equipment, food trays, or serving pieces together. With adequate storage, counter space, and lighting your whole world changes. When everything has a home and not every small appliance needs to be on the counter top or cereal box on the top of the refrigerator or waste basket in the middle of the room. There are many accessories that you can add to your cabinets to make your life easier.
Base cabinets should roll out to you so you don't need to be down on your knees to find what's in the back of the cabinet. In these you should store small appliances, pots and pans, canned goods, paper products, boxes, foil and plastic wrap, etc.

Either base or upper cabinets can have vertical dividers for cookie sheets, baking pans, cutting trays, and serving pieces. 

In your silverware drawer you can add a divider that is the right size for your spoon, forks and knives.

You can add a horizontal or angled drawer organizer for your spices drawer or a spice rack on the back of a door so now you can easily see what spices you have.
Have a dedicated drawer to organize your utensils with spacers for spatulas, tongs, peelers, slicers, whisks, etc. Each can have their own space and not get all mixed together for ease of use.

Instead of storing knives on your countertop, put them individually in a drawer with an organizer so they are protected and out of sight.

The dead space under your sink can have a tip out tray for scrapers and sponges.

If I could only choose one accessory it would be a pull out double wastebasket. This way your trash and recycling cans are in a cabinet and not under my sink or exposed in your kitchen.
A New Kitchen That We Know You'll Love
Our ability to customize your kitchen to fit your needs is one of the many reasons our clients are so happy with their new kitchens.  After we finished a kitchen remodel we've had clients say:
"My kitchen feels so much bigger"
"I enjoy cooking now"
"I lost weight because I'm cooking at home and not eating take out"
"I can find everything now."
 "Everyday I just hug myself, I can't believe this is my kitchen" 
We've even had a client have a restaurant they frequented actually called them to see if they were ok!
Fall in Love With Your Kitchen Again
The kitchen is the most expensive room in the home to remodel, but it's also the most rewarding. Let Crystal Kitchen + Bath help you in taking the fear out of remodeling your kitchen and make your dream come true.