Accessible, Adaptable Design That Lasts a Lifetime
Crystal Kitchen + Bath wants to meet the needs of clients looking to remain in their home for a lifetime, making their home safe and accessible through their aging years or physical limitations.
Our Process
Universal design allows for multiple users in the same space no matter what their capabilities without looking deliberately compliant with ADA guidelines.
We Conduct Home Audit For Independence, A Survey Which Gives Us Information On:
Mobility Aids Used
Functional Movement Abilities (Range Of Motion)
Problem Areas Within The Home (Entry, Hallways And Inside Doors, Stairs, Kitchen, Bathroom, Bedroom And Living/Family Room)
Recommendations Of Your Health Care Professionals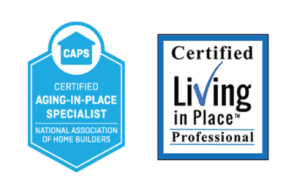 Available Improvements 
While planning for a home remodel, these Living in Place products and improvements are available.
Grab Bars • Curb-Less Shower • Collapsible Shower Doors • Walk-In Bath Tub • Lift  • Comfort Height Toilet • Adjustable Hand Held Shower • Shower Seat • Hand Railing For Stairways • Modify Thresholds • Ramps • Hands Free Lighting & Fixtures
"Our kitchen turned out better than we imagined. While we enjoy the beauty of it, what we most appreciate is the functionality."
Have Questions?
Fill out the form and a member of our team will give you a call to discuss your design & build needs.