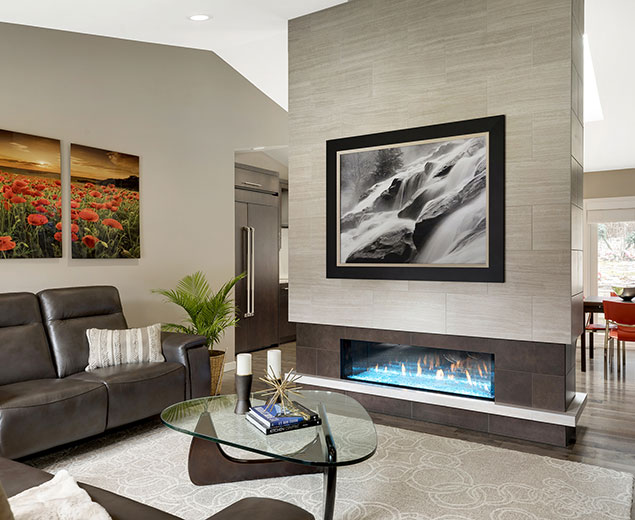 Minimalist style is all about less is more, highlighting uncomplicated forms, clean lines, and simple finishes. Inspired by Japanese design, minimalism echoes a contemporary feel with plenty of open space, and a good reason for that. The average household has 300,000 items or more, which leads to the average person spending twelve days per year looking for things they can't find.
The art of minimalism extends beyond home design and into a lifestyle. A lifestyle that is said to have an abundance of benefits, such as more contentment, less stress and more freedom. Minimalism is about creating space to live simply and meaningfully; it's about living intentionally. Living with as little as possible keeping only items that are near and dear.
Interior design features can include large windows, open spaces (light and airy), fantastic if there are stellar
views. Bring in the warmth of natural to juxtapose the clean lines and simplicity of the interior. Incorporate
textiles to warm the space (adds warmth and comfort). The design style is all about marrying form and
function, which can be easily done with a rich texture in a functional home item. Traditionally, the minimalism
design principles feature a neutral color palette, and you can offer texture by using a variety of materials, such
as timber, glass, pottery, cloth, and canvas. Add texture with a tiled back splash breaks up the texture of walls.
Geometric, subway work well and gives a surprise without being garish. Let a work of art to dominate the
space. Color and life of a masculine spaces with feminine art. Simple modern furniture to compliment. But you
do need to retain the principles of form and function and a clear line connecting your interior design.
4 Elements of Minimalist Interior Design:
Belongings need to be pared down and concealed
 Bare essentials, minimalist furniture and design (focus on functionality and practicality)
Clean, clear surfaces, bare walls w/ minimal artwork
Monochromatic color scheme (light and soft natural shades)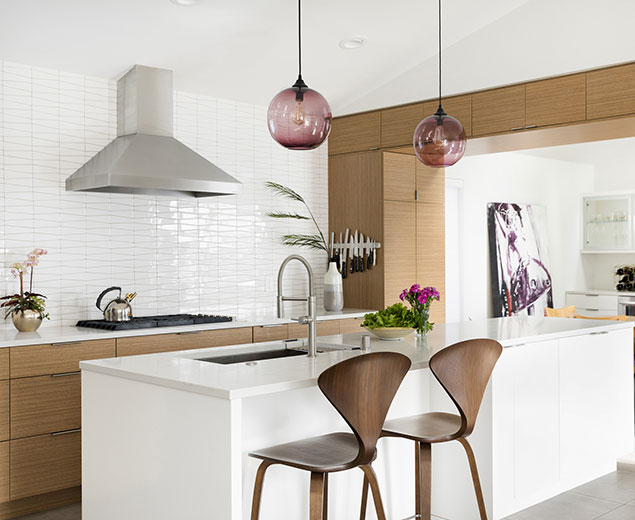 The minimalist kitchen does mean removing some of your clutter so you can easily find what you use the most.
And it means arranging your food and tools in the most convenient locations possible. We all know this. But we
don't always know where to begin.
Hide away appliances. Ditch the kitchen table. Instead of going with a traditional kitchen table, put barstools or wire chairs at a kitchen island or breakfast bar to open up your space. Doing so will add visual appeal to your kitchen, create cleaner lines in your design, and give you more room to move around!
What does this mean for you?
Cull cooking equipment, cut your dishware, utensils, small appliances, and knives down.
Declutter food storage collection (re-usable containers. Holding onto used yogurt and sour cream containers to use for food storage is a worthy and thrifty American tradition and there's no shame in that game. But is there an avalanche that spills out every time you open the cupboard?)
The only things that should be on your counter are things you use every day, and anything that is inconvenient to move around (coffee pot, toaster, crock of kitchen tools.)
Incorporate a remote pantry for bulk food, small appliances, and other items not used regularly. Use organization techniques to keep food styles together.
A popular feature of a minimalism is to get rid of traditional knobs/pulls. Flat paneled doors and mouldings are a key in this uncluttered, streamlined design.
Color blocking with natural surfaces is a great way to break up a traditionally monochromatic design.
To achieve your minimalist design goals, interior cabinet storage is key to keeping your counters clutter free.
Pegged drawer systems are great to organize glassware, plates and bowls; cutlery, spice and divided drawers for snacks and utensils. 
Corner cabinets, or blind cabinets, can pose a challenge when it comes to kitchen storage and organization. Tiered shelving that can be spun inside the cabinet or pulled out of the cabinet entirely.
Tray dividers help keep flat goods from stacking up.
Specialty service areas contribute to organization: coffee station to keep goods together.
Hidden trash storage eliminates the need for free-standing trash and recycling cans.
A toe-kick drawer at the bottom of a cabinet or creating an under-cabinet drawer to keep your pet's food and water bowls in the kitchen without sacrificing any floor space. Plus, it contains spills!
Bathrooms need not to be forgotten and are great spaces for the minimalist style of living. Bathrooms have become a spa-like place to get away. They create an environment where one feels refreshed after using the restroom or taking a shower because the room has taken into account both function and style without going too overboard. You can find a million bathroom ideas on Pinterest, but it's a bit more difficult to find good minimalist bathroom ideas. 
Designing a minimalist bathroom can be quite easy. You just need to be thoughtful about the things that you use and make sure that they also have a purpose. Minimalism is ideal especially for small to medium sized bathrooms. Minimalist homeowners now combine clean lines with stylish features in bathrooms. Complimenting different shapes (i.e., slim floating vanities and an eggshell-like soaking tub) to create an intriguing, and serene retreat.
One key element that helps keep minimalist bathrooms feeling clean, fresh, and peaceful are the use of an all-
white color scheme and use of fixtures like white sink basins, a crisp white soaking bathtub that is visually
appealing. Wall mounted fixtures are wonderful in keeping them off the counter or floor making the floor a clean and open space. Minimalist bathrooms tend to feature upgraded focal points such as plumbing fixtures, simple lighting, clean line cabinets or accent walls. Creating a luxurious shower can really elevate the feeling of your bathroom. Shower design is an important part of a minimalist bathroom design. 
It is important to pare down your products and the decor. You want to keep the surfaces clear and clutter free with only functional items out. Maximizing cabinet and drawer storage is key to staying organized.
Other concepts to consider are for your minimalist bathroom include:
Use of natural elements: Wood-teak and bamboo or other hardwoods are smart options: simple plank shower floor, floating vanity, accent walls.
Squared sinks, straight lines, removing shower curtains (use glass enclosures) or go with a wet room were there is no enclosure at all. Shower seating is also great if there is no bathtub.
Medicine cabinets are an obvious choice to help clear the clutter off of vanity top and keeps texture at a minimum.
Easy to clean surfaces such as stone, tile, glass should be employed to help keep your space clean and tidy.
Simple interior design items are a great way to incorporate function with form. Open shelving with baskets and coordinating glass jars for cotton balls or cotton swabs.
Our designers are here to bring your ideas to life and to help you get organized.
Adopting a minimalist mindset doesn't happen overnight. It's a gradual process that takes time and effort. This
mindset shift is probably the hardest part, but once you've made it, you'll start noticing the positive changes
around you. While the final expression of a minimalist design might appear effortlessly simple, as spare as a poem
and as clear as a bell, achieving this kind of powerful simplicity is anything but easy. Use these concepts to create
a perfectly beautiful – and interesting – minimalist kitchen or bath. At Crystal Kitchen and Bath we have great
designers to help you bring your minimalist space together.
Ready to Start Your Next Project?