How to Achieve Minimalist Design
We see smart technology popping up in most home devices and appliances today. These products
connect to the internet and provide control in new ways. Here are some Smart Technology options for the kitchen and bathroom you may not know about yet, here to help make our daily lives more convenient and enjoyable.
The Weatherproof TV originally designed for outdoor use is perfect for a bathroom application. These TV's are designed to withstand moisture and wetness so you can watch a show or enjoy music while getting ready or enjoying a soak in the tub.
Do you desire a TV in your bathroom but would prefer it to be hidden? The vanity TV mirror is a great option.  The advantage here is when not in use it disappears and all you see is the mirror. There are many features available between brands like touch screen, weather forecast, health data, voice activation, LED lights and more.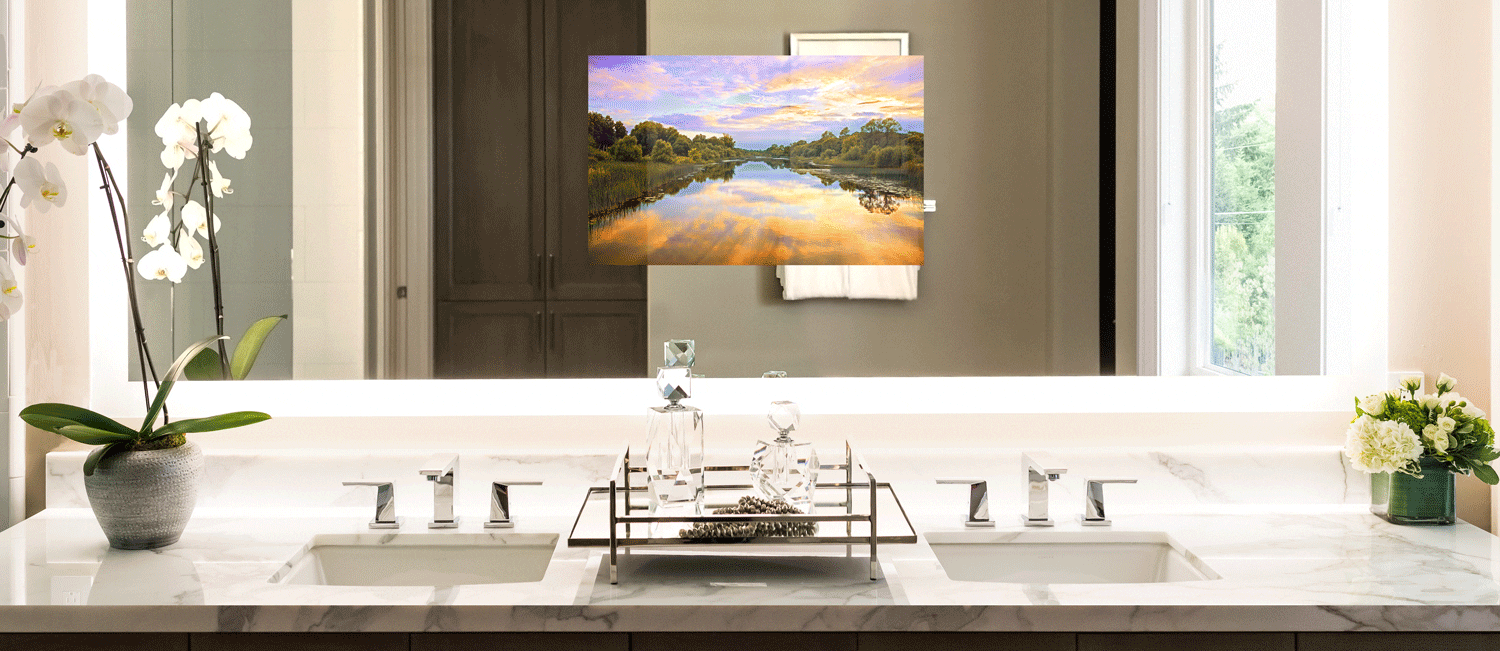 Many of us love to have music flooding our homes and flush ceiling speakers have been around for a long time but what about the bathroom. Weatherproof speakers are now available for the bathroom and can even be used in showers too. So go ahead and sing in the shower.
No more waiting for the shower to warm up. Use your phone with the U shower system to control your tub or shower. It will remotely start and preheat the water sending you a notification when the water is up to temp, or use the 12 programmable settings.
In the Kitchen, the heart of the home, convenience is a must. Voice control can provide hands-free control of the tv, music, lighting, shades, security systems, temperature and more. Moving from the speaker-looking smart device, a Smart Display has become a great option. Not only providing voice activation but also a touchscreen display with apps, music, tv, recipes, digital photo frame, a true control center for the kitchen. Some models sit on the counter, or hang on the wall, or can be integrated in a mirrored backsplash, or included in a major appliance like refrigerator or range hood.
Smart Kitchen faucets have become smarter. We have seen the touchless feature before, but now there is voice activation allowing on/off, amount of water dispensed and specific water temperature. No more looking for the tablespoon measurer, the faucet will dispense the perfect amount.
Including Smart Technology in your Kitchen and Bathroom remodel can elevate the way you use these rooms and provide convenience, security and enjoyment.