2017 Fall Remodelers Showcase
New Hope, MN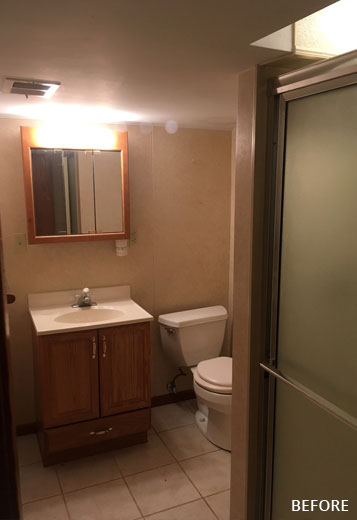 A 1961 rambler was gutted and remodeled to accommodate a simpler lifestyle and 55 plus living.
Every room changed location as she designed this home to fit her needs now and in the future.
Objectives
55+ living with future aging in place requirements, One bathroom on this level of home for both guests and clients, Lots of storage and lighting
Design Challenges & Solutions
This room was a bedroom, all mechanicals needed to be moved or added. The soil stack could only be in one location and the window could not be move. 2-Pocket doors were added, from hallway and master bedroom. This also helped with keeping the floor space open and easier access.. Large curb less shower with trench drain, bench, 2-grab bars, heated tile floor, niche, hand-held shower head and heavy clear glass shower door.
Taller and deeper toe kicks for better wheelchair access.
Ready to Fall in Love with Your Bathroom?
Contact us today to start the design process with our award winning team members.
Everything accessible for aging-in-place but in contemporary styling with walnut wood cabinets , white and brown marble tile (including the vanity mirror surround) and white Corian counter tops and sink. A long vanity with 2 sinks, the height of vanity had to be under the window trim with taller and deeper toe kicks for better wheelchair access. Vanity looks like all drawers-but the 2 sink cabinets are doors.
Ample Storage
Each drawer has a drawer with in the drawer (extra 6 drawers), wall cabinets next to each vanity, 3 recess medicine cabinets, tall linen cabinet (open shelves below because the doors would hit the toilet and a place to store scale on bottom). Toilet has a washlet to help with clean-up in the future and grab paper holder.
Special Features
Heated towel bar and floors
Niche under recess medicine cabinets and lighting
Thin wall sconces, decorative ceiling fan and puck lights