Mid Century Modern Brought Up to the 21st Century
2017 Fall Remodelers Showcase Award, 2017 City of New Hope Total Home Renovation
New Hope, MN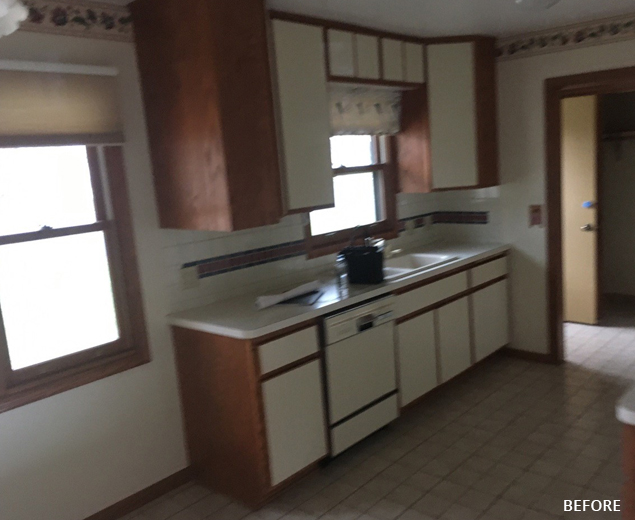 A 1961 rambler was gutted and remodeled to accommodate a simpler lifestyle and 55 plus living.
Every room changed location as she designed this home to fit her needs now and in the future.
Objectives
Functional work triangle, 42" height snack bar for 4, Tall storage, Contemporary styling, Tall clients = tall work surfaces
Design Challenges and Solutions
A step-down family room was converted to the kitchen by raising the floor and moving/adding all mechanicals.
The Room was narrow and long, the only workable shape was a galley kitchen where all the appliances were on one wall. Being tall I wanted 38" height black granite counter top, to accomplish the additional 2" of height a 3.5" mitered edge was added.
The Island/snack bar had shallow cabinets on the kitchen side and a 12" over hang on the backside for 4 chairs. The whole island is 42" height, comfortable for working and sitting. Ash Wood (stained to match the walnut cabinets) counter top with live edge.
Tall pantry cabinets for china, small appliances, food and brooms/vacuums storage, 12 feet in length and 15 inches deep. A large window looked out onto the neighbor's back yard, it was removed and replaced with a 112" x 18"awning window in the backsplash.
While giving up the unneeded view, it retained the natural light and added upper cabinetry. The garage door/entry, landed right into kitchen, A bench and hooks were added for coats and purses.
The new kitchen looks like it was always part of this grand home.
Ready to Fall in Love with Your Kitchen?
Contact us today to start the design process with our award winning team members.
Special Features
Contemporary style with walnut wood and gloss-lacquer cabinets
Brown marble tile backsplash to blend with the tile elsewhere in the home
Unique custom storage: tip up cabinet doors, pull out with containers for knives and utensils, Servo-drive double waste basket
Hands-free faucet, bling pendant lights