Modern Family Room Makeover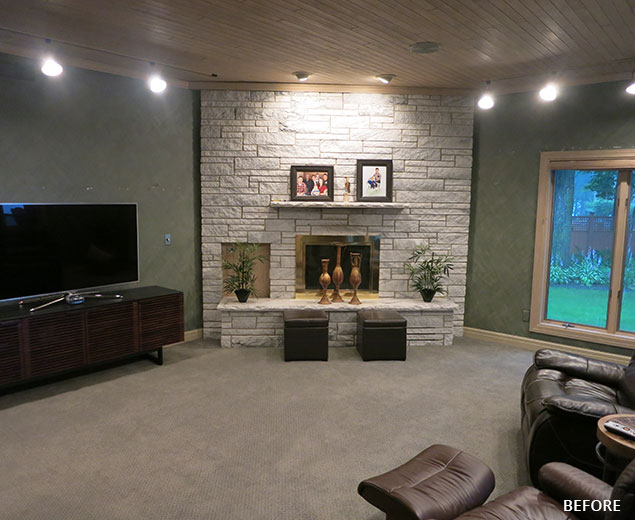 In the process of remodeling the entire main level of this home, the Family Room had two large challenges.
The rustic stone fireplace didn't fit the more modern style the homeowner's desired and with grandchildren visiting often, they worried about the safety of having one. Also, with the fireplace placed at an angle in the room, it felt awkward if the furniture didn't face the fireplace, yet being able to see the TV was difficult. The solution became that the fireplace needed to be demolished and a new one built that was centered on the large wall. This fireplace has modern styling and an innovative heating technology that maintains the temperature of the glass so it is cool to the touch. This was a huge draw for the homeowner's and they loved the idea of being able to have a fireplace without the worry of small children touching a hot surface. With the fireplace repositioned, it became much easier to create a furniture arrangement that was conducive to watching TV and for family gatherings. Also, there is a cabinet adjacent to the fireplace that can house electronic components if needed.
Ready to Fall in Love with Your Space?
Contact us today to start the design process with our award winning team members.