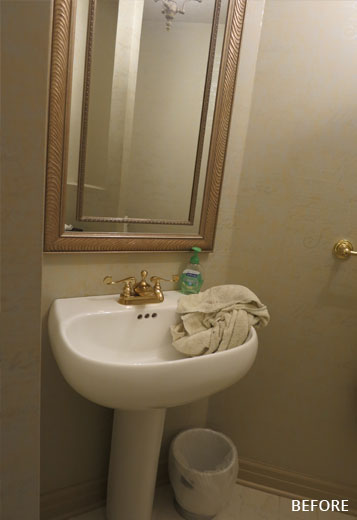 The existing powder bathroom was out of date and felt very confining, especially with the half wall and awkward angle.
By removing the partial wall, a closet and widening the entryway door, the room instantly felt bigger. The homeowners wanted a contemporary style Powder Bath with sleek lines and a touch of sparkle. The new floating vanity helped open up the room by creating more floor space. A floating, beveled mirror is flanked by chic wall sconces that add a soft, cozy accent to the room. Contemporary cabinet pulls with crystals add sparkle, while the modern single-handle faucet with soft, flowing curves adds a modern sophistication to the bath. The skirted style toilet makes for easy cleaning around this plumbing fixture. Cambria's Berwyn counter top has swirls of whites with a subtle gray vein with hints of gold and silver radiance which coordinates nicely with the 12" x 24" floor tiles in white with a quiet grey veining pattern. Finishing off the room is a soft blue/green paint color that brings the space to life.
Ready to Fall in Love with Your Kitchen?
Contact us today to start the design process with our award winning team members.