Sophisticated Townhouse Living
Featured in Kitchen & Bath Design News and Star Tribune
Minnetonka, MN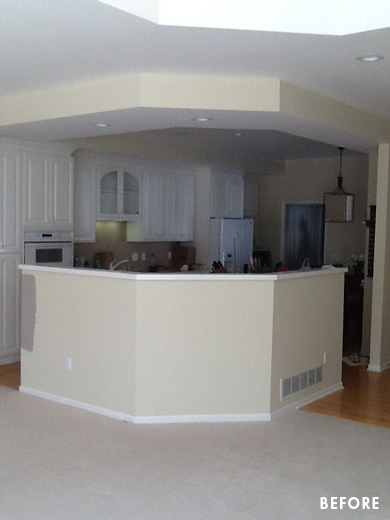 Most designers will tell you the most difficult project is to work on is your own home.
My kitchen remodel was no different for me. We loved our previous downtown loft with the large open spaces and wanted to recreate that feel in our new suburban townhouse. The town home had wonderful views of the woods but lacked an open floor plan, sophisticated finishes and character we desired. The original kitchen, though open to the living area, had two small islands. One cut the kitchen off from the living areas. The other island had the cooktop and not the sink as I had wished. In fact the sink faced the wall.
With a large open plan, the finishes needed to be as sophisticated as the adjacent living room.
Ready to Fall in Love with Your Kitchen?
Contact us today to start the design process with our award winning team members.
The challenge was to improve the flow of the room, take advantage of the view and make it more conducive for entertaining. The island was expanded to hold the sink and seating to gather while entertaining. It faces the living space and the views of the woods. All the appliances including a steam oven and TV had to be located on the wall behind the island. A custom appliance cabinet was designed to hold the microwave drawer, steam oven and TV. That unit along with the refrigerator and range make the entire wall appear balanced without being cluttered. With a large open plan, the finishes needed to be as sophisticated as the adjacent living room. The furniture quality cabinetry is creamy white with a grey highlight and the island is a natural stained walnut; colors and materials that are repeated throughout the house. The backsplash tile is a custom cut limestone that matches the new fireplace surround in the adjacent living room. Mission accomplished – the new space is opened up. It's far more organized and sophisticated. And it functions perfectly while entertaining in our "loft in the woods".