Elevated Plymouth Fireplace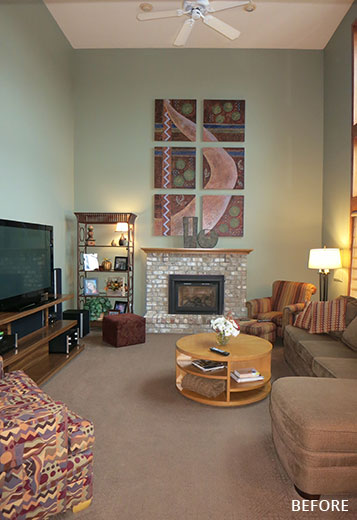 This 1990's home needed a face lift in the Family Room.
The existing fireplace seemed lost and unimpressive on the 17-foot high wall. The solution was to extend the fireplace all the way up to the ceiling and add cabinetry. The new stone façade adds dimension, color and weight to the room so it can counterbalance the large window wall. A hand-made mantel made of Ash wood adds additional character and texture. Flanking both sides of the fireplace are new built-in cabinets and floating shelves that are illuminated with under-cabinet lights. Each shelf has an outlet, so with a flick of a switch, Christmas decorations can be turned on or off. Up above a new contemporary style fan circulates the air on warm summer days.
Ready to Fall in Love with Your Space?
Contact us today to start the design process with our award winning team members.