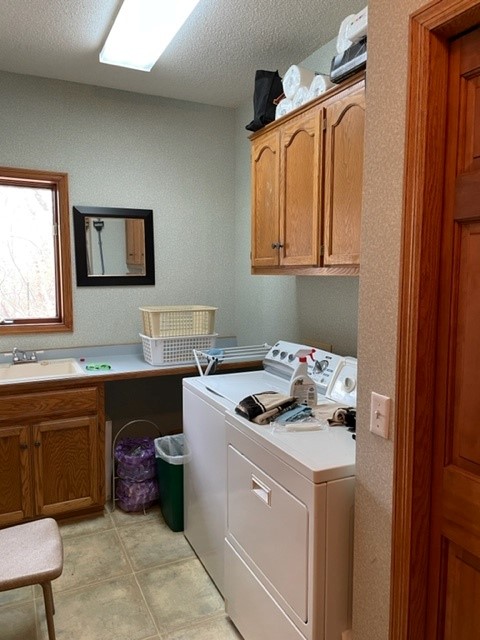 An improved layout and well thought out Craftsman details, this Laundry Room is one of a kind. Plus it also functions as a Butler Pantry.
Potential
The Laundry Room is off of the garage and the main entryway into the home, so it gets used a lot.
Client Requirements
Client wanted the Laundry Room to feel like a Butler's Pantry – an extension of their Kitchen. They wanted the same cabinetry and countertops as the Kitchen, which we had remodeled 8 years earlier.
Thanks to a laundry room reconfiguration, the homeowner now has a deep sink for cleaning up after projects in his garage wood shop.
Ready to Fall in Love with Your Space?
Contact us today to start the design process with our award winning team members.
We were required by plumbing code to have access behind the stacked washer and dryer units to shut off the water. Being that the client wanted a built-in look with panels on each side of the washer/dryer we had to figure out access.  We cut a hole in the closet wall and then a hole was cut in the right side panel to gain this access.  We installed a pre-fabricated panel to make the access hole look nice.
Also, the plumbing pipes could not be within the outside wall, due to the fact that they would freeze, so we had to bring the plumbing pipes into the room. This meant we couldn't push the washer/dryer tight to the wall. The panels on each side of the washer/dryer are deeper than the adjacent cabinets for this reason.
The homeowner likes to do woodworking projects and had asked if he could make floating wood shelves for the room. The microwave sets on these shelves. The open wood shelves keep the room feeling more open versus if we had continued wall cabinets all the way to the window.
Creating an "L-shape" layout and utilizing a stacked washer/dryer unit gave the client the most countertop space possible. The tall cabinets gave them the additional storage they desired too.  
A luxury vinyl flooring was specified. It is a product that is used on pontoon boat decks, so very durable.  It was soft and comfortable to stand on too. 
Vinyl wall covering for the walls that is stain resistant and can handle high traffic areas like a Laundry Room.
It is a Laundry Room, but the homeowners also will use it when entertaining to serve buffet style or to keep a roaster and crockpots going for a large get together. They store backpacks and water bottles in the deep drawers next to the washer & dryer. The homeowner has a wood working shop in his garage and likes the deep stainless sink for doing clean up in.