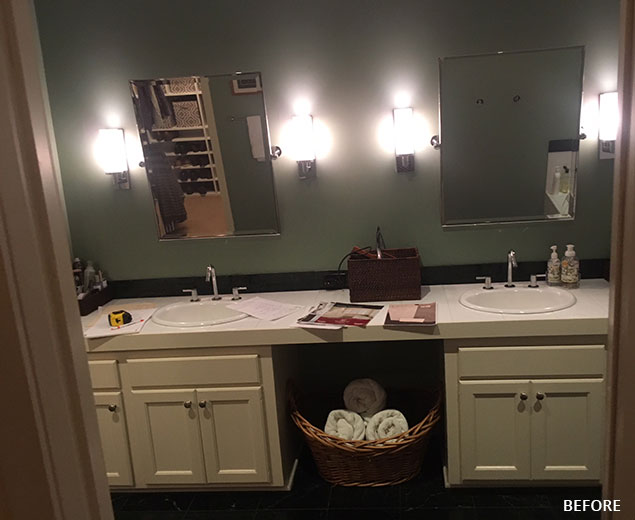 Late 50s baby boomers wanted their Master Suite in Edina, MN to include all the amenities and comforts of a spa.
Problems Master Bath
Outdated
Washer and dryer were in a cramped closet
Cold floors
Lack of storage
Solution Master Bath
Removed the walls surround the washer and dryer and replaced it with built-in cabinetry. Added a ledge behind each vanity for extra counter space and storage, which allowed wall-mounted faucets on an exterior wall. With the ledge behind the tub, we were able to have recess niches at both ends of the tub. Wainscot and shower walls used white subway tiles. Matching chair rail capped the wainscoting and formed a picture frame around the three niches. The recess niche was inset lily bulb deco tiles. Dark grey floor tile over a heated floor. Installed a curbless shower entry with trench drain. Counter tops, ledge and shower bench seat made of Carrara Marble.
Matching chair rail capped the wainscoting & formed a picture frame around the three niches.
Ready to Fall in Love with Your Bathroom?
Contact us today to start the design process with our award winning team members.
A freestanding sculptural tub with floor-mounted tub filler faucet and person hand held shower head was added. Custom white Crystal cabinets, including a tall dresser in the center that has an extra-large drawer. It looks like 2 drawers on exterior, but is one drawer on the interior, for the storage of hairdryer and other large personal items. Grab bars were added at the tub, shower and toilet.
We also made changes to the Master Bedroom:
New fireplace gas insert
12" deep bookshelves were installed each side of the new mantle, with a continuous wood counter top across the entire wall.
In what was previously a recess in wall, we added a 24" deep dresser, recessing 12" and having the other 12" even with the bookshelves. Another bookshelf was added above.
New wood floor was added
Space above the mantle for a wall-hung TV.