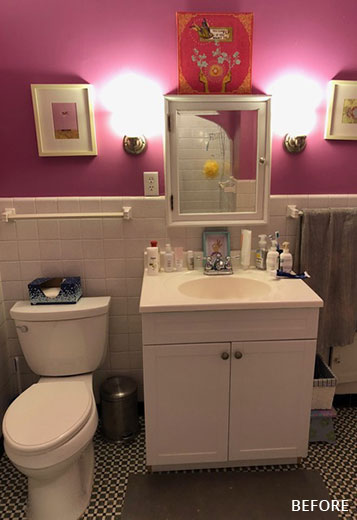 When the homeowners moved into this 1929 home several years ago, it still had the original bathroom.
This bath was primarily used by their twin teenage daughters, but as they got older the single sink layout became more and more of a problem as they tried to get ready for school. The number one priority they talked to designer Carol Kornak about was to somehow incorporate two sinks that also offered more storage and counter space.
Carol proposed a solution by relocating the bathroom door further down the wall allowing a 60" vanity large enough for 2 under-mount sinks & plenty of storage. Finishes were selected with the age of the house and the young daughters in mind. Pale grey cabinets from Crystal Cabinet Works were paired with Caesarstone quartz countertops in Georgian Bluffs color.
The glass hardware and patterned floor tile are updated versions of the original features that the homeowners wished to preserve.
Ready to Fall in Love with Your Bathroom?
Contact us today to start the design process with our award winning team members.
The glass hardware and patterned floor tile are updated versions of the original features that the homeowners wished to preserve. "From my first meeting with Carol, prior to even choosing Crystal, she was honest about the expected cost and timing. There were no surprises when it came time to sign the contract. Our project was completed on time (one week early!) and on budget. We loved seeing Carol's design come to life."