Primary Bathroom With a View
2022 NKBA MN Award Winner
Minneapolis, MN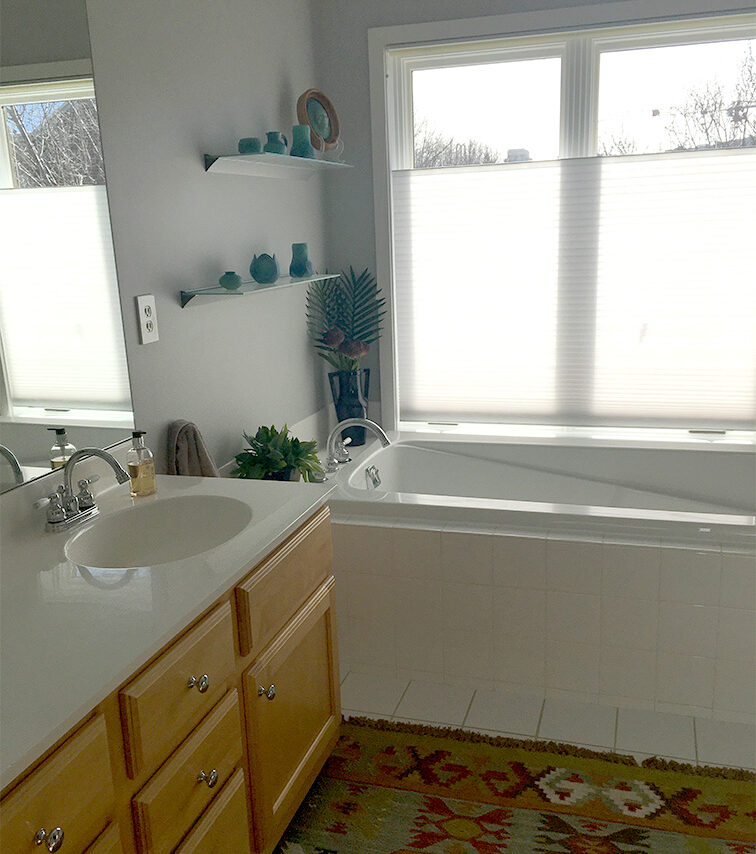 These homeowners wanted to update their 1990's bathroom with a statement tub to retreat and relax.
These homeowners were looking to update the finishes and open up their 1990's bathroom, by removing the large tub that took over the room. The old tub was used frequently but the desire was for a deep soaking tub to continue to enjoy the downtown views and relax in luxury.
The homeowners have a unique style throughout the home that they wanted to bring into the master bathroom. They have a clean and modern feel throughout with antiques that they have collected over the years.
This is the perfect sanctuary to unwind at the end of  the day with a lovely soak in the tub. 
The large tub deck was removed and replaced with a freestanding model allowing more walking room in the space. With the new found space, we were able to put in a corner bench made from cherry wood in Dusk finish from Crystal Cabinet Works, topped with a light-colored quartz. 
With the tub centered in the window, there was space left between the wall and tub but the clients did not want a floor mounted tub faucet. The designer added a small ledge next to the vanity to house the tub controls and topped it with quartz. This looks beautiful with the tub and provided a space for bath items and décor.
Ready to Fall in Love with Your Home Again?
Contact us today to start the design process with our award winning team members.
The challenge for storage in this room was met by the ample space provided in the drawers of the vanity and tower cabinet on top of the vanity also in the cherry wood and Dusk finish. The dark rich stained wood looks so dramatic and modern against the whites and grays that fill the room.
The Danbury door complements their style perfectly with its sleek lines. The softness of the tile finishes, tub, and soothing wall color combined with the rich boldness of the cherry wood creates a uniquely sophisticated space.
The left sink base houses a hot water heat pump as this bathroom is on the third floor. Now they get hot water quickly in the space.