2020 NKBA MN Award Winner
2020 ASID MN Award Winner
Plymouth, MN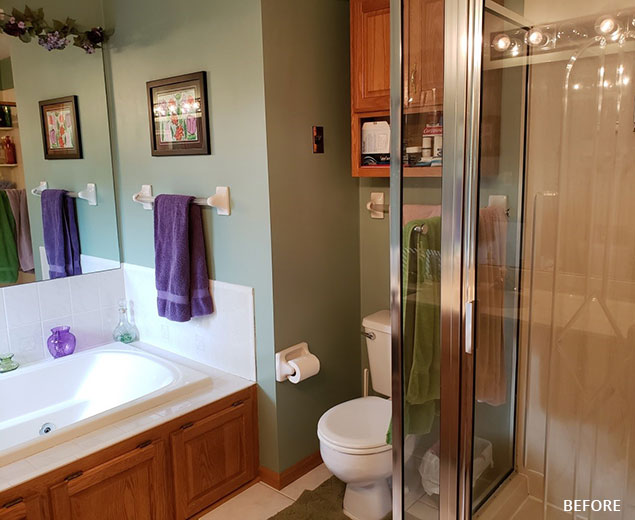 The Master Bathroom felt dated and cramped, with the shower door and entry door colliding when opened at the same time.
Potential
The corner shower was small and the seldom used Jacuzzi tub was taking up valuable square footage. The homeowners' were looking for a new layout to solve their problems.
Client Requirements
The solution was to eliminate the tub and move the shower. The new location for the shower gave ample room for a larger shower including a bench seat. A pocket door replaced the entry door which opened up the room. A glass block window replaced the existing window to allow natural light into the bathroom, but give the privacy needed for bathing. With the shower relocated, there now was room for a full height linen cabinet to store all their towels and toiletry needs. The vanity increased in length enough to give more room at each sink for grooming. A raised ledge at the vanity gives additional counter space to set toiletries and make-up on while getting ready in the morning.

Easy to maintain finishes were chosen for the countertop and floor & wall tiles.
Ready to Fall in Love with Your Bathroom?
Contact us today to start the design process with our award winning team members.
A soft grey & white color palette was chosen for the space allowing for the homeowner to interject different accent colors through towels and accessories. Grab bars were added for safety in the shower at the shampoo shelf and at the toilet with the TP holder. A variety of tile sizes were used in the shower to create visual interest ranging from the small mosaic tiles to the large 30" x 30" wall tiles. Easy to maintain finishes were chosen for the countertop and floor & wall tiles.