Kitchens and bathrooms are trending into the wellness category creating one of a kind unique space that supports homeowners' desires for simple, minimalist, clean looks. Designers and clients together are evolving the ever-popular Farmhouse style into a modern look, by using earthy muted colors and light wood tones inspired by nature. Keep reading to see all the highlights and trends for the 2023 year and beyond. Let Crystal Kitchen and Bath guide you on living your best life.
Homeowners are looking to expand the kitchen and bath, knocking down walls & taking over adjoining rooms to add more square footage.

Walk-in, built-in and even the butler's pantry is gaining in popularity.

Kitchen islands continue to demand attention with the flexibility for hiding clutter, food prep, dining, and workspace.

Clients are splurging on countertop materials such as porcelain or quartzite.

Hidden pantries, push to open cabinets with invisible hardware, extra-large refrigerators with matching cabinet fronts are some of the benefits of disguising clutter and creating an open feel.
In the primary bathroom clients are forgoing tubs to create larger showers, adding more closet space, a dressing room, sitting area and morning coffee bar.

Primary bathrooms with spa-like features (steam shower, heated floors, heated towel bars, multiple shower heads, and wash-lets toilet seats) will be in greater demand.

Technology in the bathroom is on the uprise to create a personalized environment, such as showers that can be turned on from the bed, setting the perfect temperature before stepping inside.

Also gaining popularity are mirrors with speakers and TVs built in.
Homeowners are requesting calming, functional, customization interiors with the concept of bringing the outdoors into their space. Opening up to the outdoors with larger windows that have fewer panes of glass and glass doors that open to the outside. Biophilic design is the hottest word to describe bringing the outdoors in. Adding in real houseplants, wood, and stone materials into the décor. Kitchens with an open feel, have creative storage to hide clutter and large multi-functional islands are the trend. Style has become increasingly important because people recognize that being in a nice space is highly gratifying. The industry is seeing an upsurge in homeowners hiring kitchen and bath professionals to project manage and design their new spaces with wellness in mind.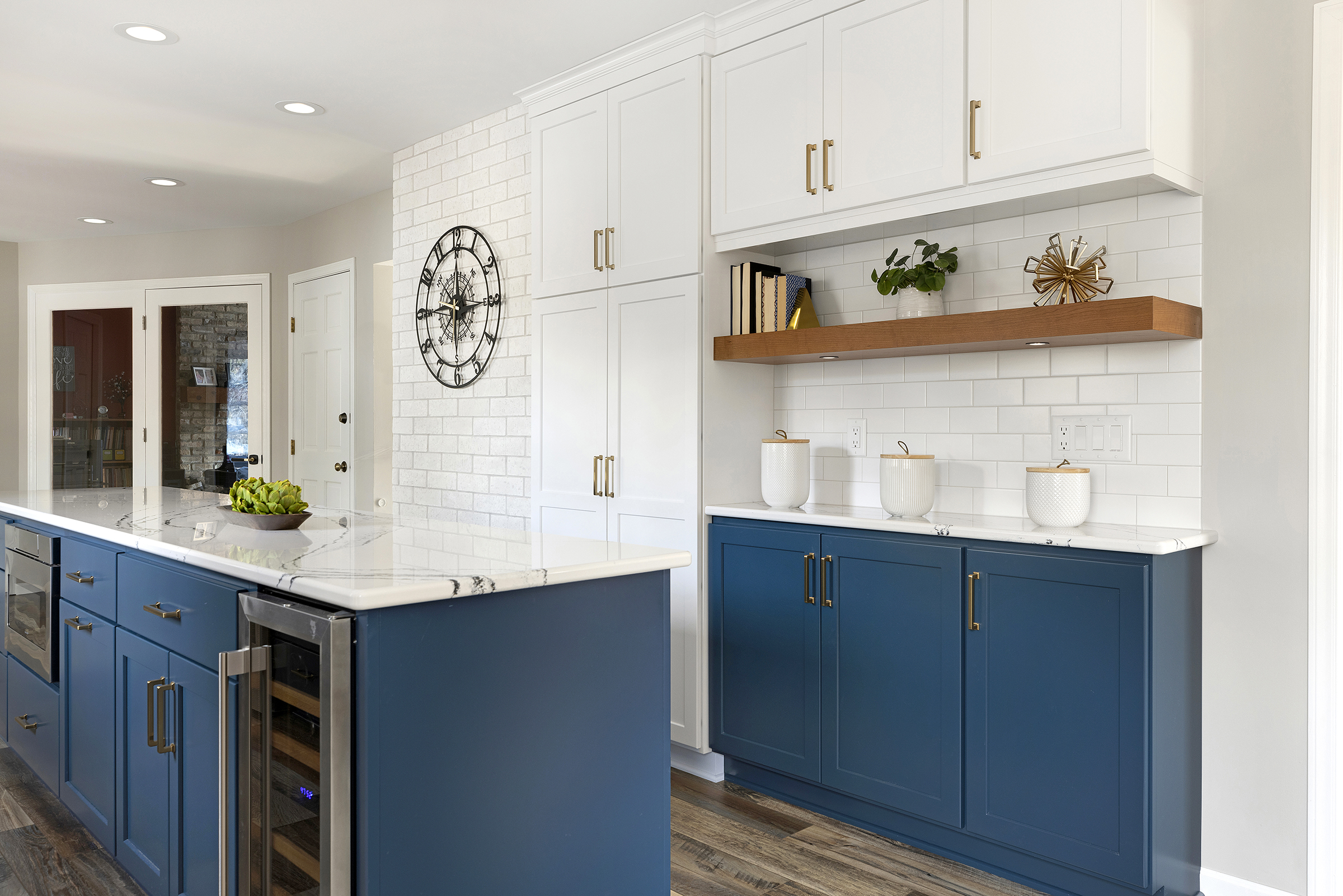 Darker colors of green and blue top the list. Whites and off whites remain the most popular neutral color. Warmer, natural colors are gaining popularity over grays and whites. Black shower enclosures and layers of black in the kitchen space with an emphasis on black backsplashes. We are seeing more wallpaper in the kitchen, 3D surfaces, textures, and unusual kitchen sinks. The "New Statement Bathroom" brings back color and pattern, making the room feel layered.
There is an increase in wanting appliances to be more efficient and mobile apps to control these appliances. Homeowners splurge on high-tech features; hands free and voice activated faucets, steam cooking and air-fryers integrated into ovens, and ovens controlled by their smartphones. In the bathroom, smart controls for heated floors and showers with smart lighting features. The integrated smart technology systems and options for living spaces have been game changing and will continue to advance.
Here at Crystal Kitchen and Bath, we are prepared and dedicated to creating your new space unique to you. CK&B listens to your wants and needs, space planning a functional new room. Will you let us bring wellness into your kitchen and bath?
Ready to Start Your Next Project?