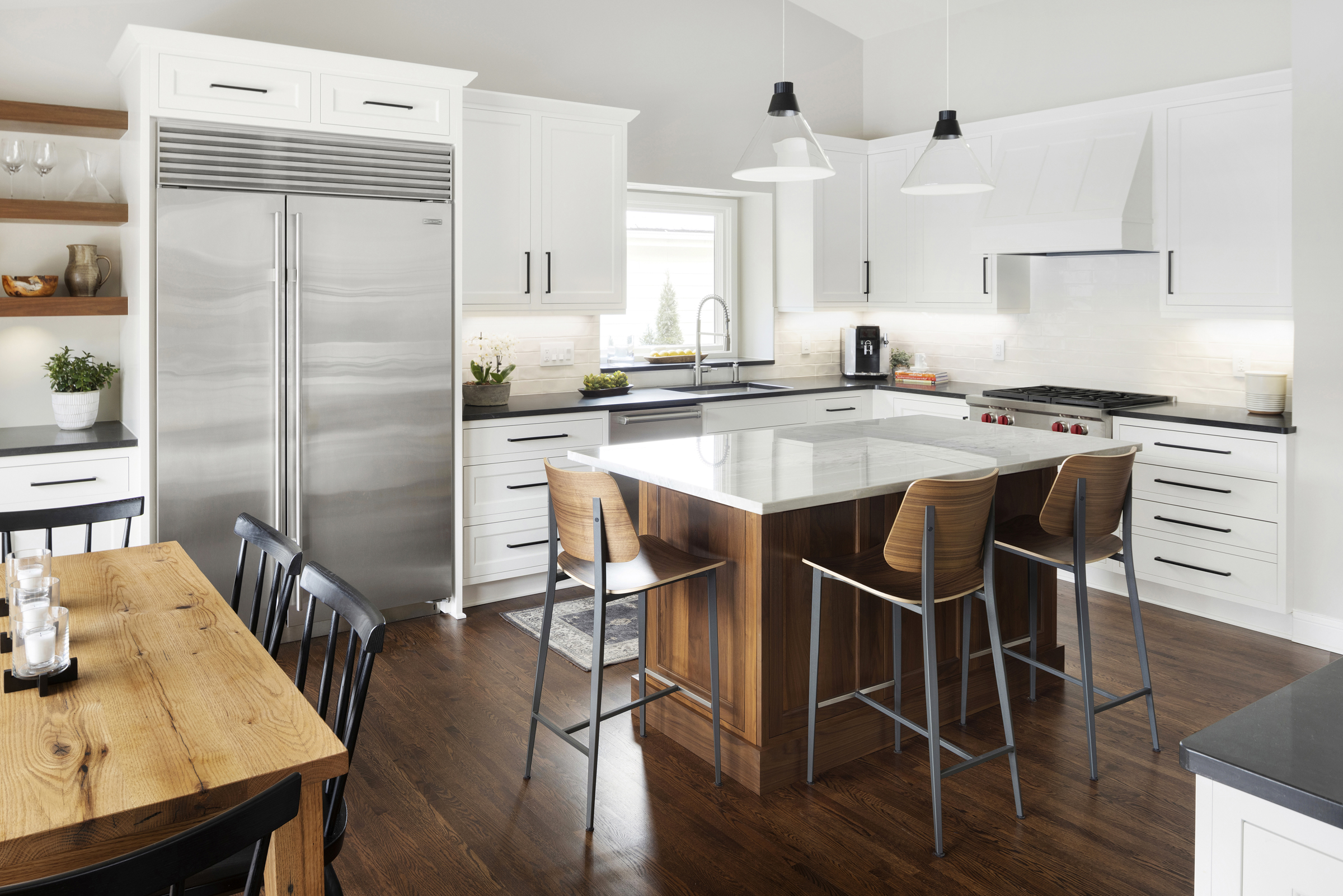 When Shelley and Doug contacted Jolynn Johnson, CMKBD, CLIPP, CAPS, at Crystal Kitchen & Bath to plan a major remodeling project of their kitchen and master suite, they had already experienced several other remodels, including another home, with this award- winning company. Now empty-nesters, Shelley and Doug's earlier remodel also inspired some design solutions for this 1980s rambler. They knew a thing or two about remodeling, having done some hands-on projects themselves.
"This home is unique because of Shelley and Doug," said Jolynn. "They love design and the remodeling process."
Planning for the primary bedroom, bath was in 2018, and the kitchen remodel 2021.
"People really need to give themselves enough time to plan and give the designer enough time to pick your brain about what you like"  Doug and Shelley spent time looking at Houzz and other photos to show Jolynn what they wanted (or not wanted) in their space." This collaboration, not a fly-by-night thing." says Shelley. "When it came to small accessories with hundreds of choices, Jolynn narrowed down good options."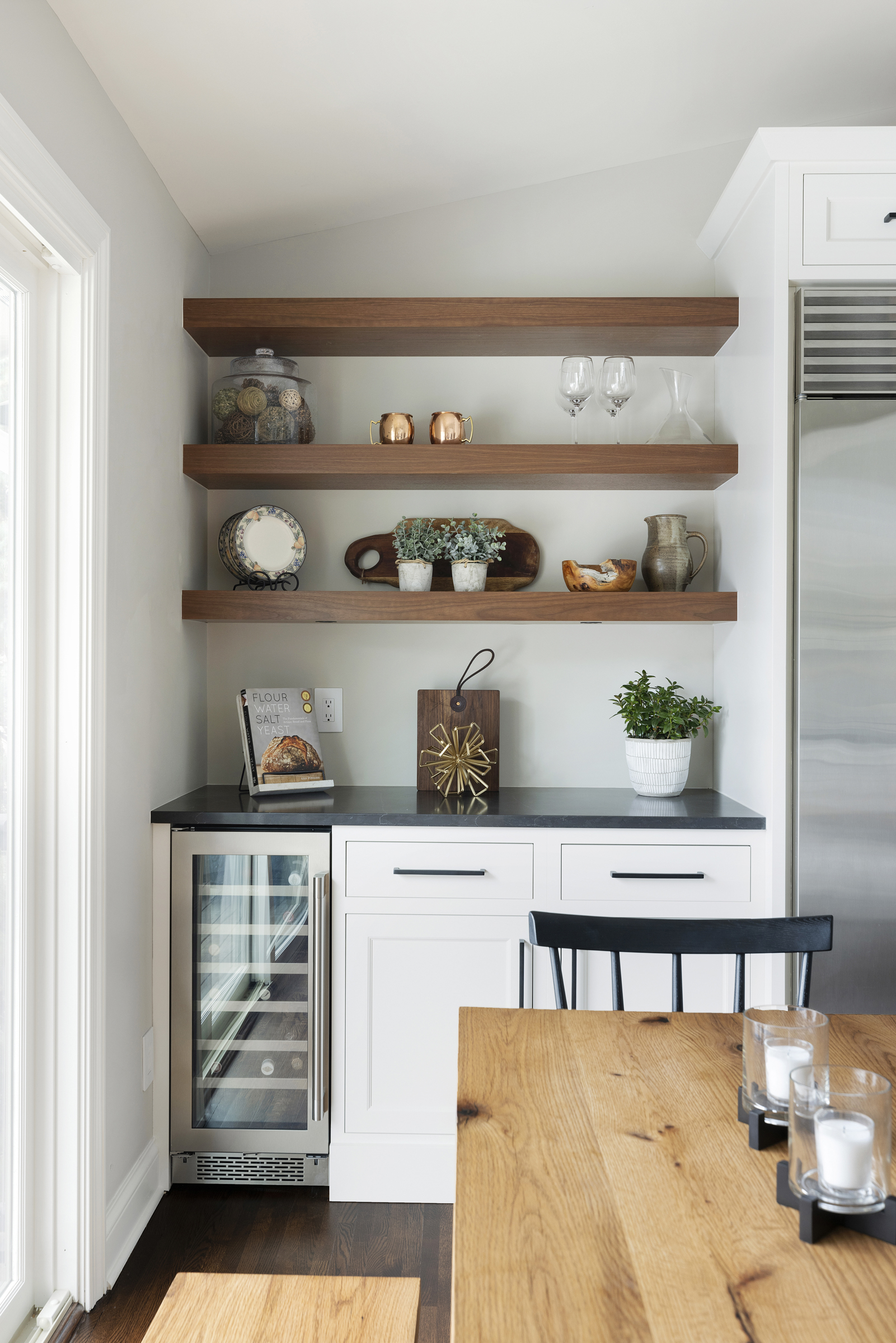 The bathroom was the first finished project, but the kitchen is what you see first.
The kitchen is light, airy, and sophisticated with gleaming white custom Crystal Cabinetry warmed with wood accents and floors.
It's a cook's dream now, and Shelley, who loves to cook, knew a reconfigured layout would bring her vision to life. The footprint was large enough to encompass a bar with floating walnut shelves, a seating area, and an island. Appliances and cookware are housed in their own accessible yet unobtrusive spaces.
Design collaboration resulted in removing a second window and repositioning major appliances for a practical working triangle.
The ample new storage is genius. Oversized pull-out drawers house sizable appliances. A row of tray dividers above the oven means no pulling out everything to get a baking tray. And the grandkids can easily open drawer to help out.
"I didn't want a cooktop on my island, for both safety and clean-up issues, so we found a good space for the new range top and wine cooler," said Shelley. "And luckily, we already had a big Sub-Zero refrigerator and a new dishwasher and new double ovens. The Wolf range top is on the garage wall and the hood ingeniously vents through and out the garage, so it doesn't interfere with the mudroom."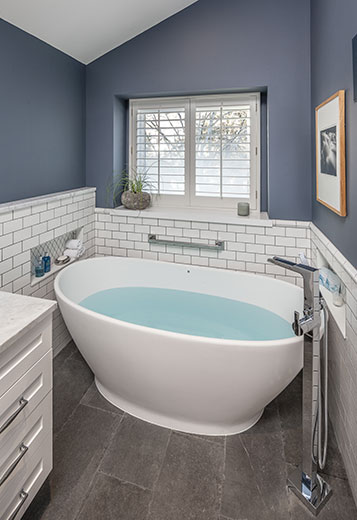 The theme of warm sophistication flows into the bedroom, with wood floors that echo the living room. An awkward old tv niche became sleek white shelves and drawers. The new gas fireplace features a mantle that runs continuously across the wall as a countertop.
 The primary spa bathroom pairs luxury with function and features a walk-in, curbless, trench drain shower with a bench and grab bars. Aging in place is one thing, but as Shelley points out, anything can happen, such as when she broke her ankle and could wheel right up to the shower and the bench. The walls surrounding the washer and the dryer were removed for shelving. A sculptural tub replaced the bulky water jet built-in tub.
This bathroom has heated floors, a separate toilet room, and custom Crystal Cabinets, including a drawer with plug-ins for small appliances. This smart space pairs white with dark blue walls, plus a marble bench, ledge, and countertops for crisp luxury.
"When it comes to remodeling, it is important to us to work with people we can trust," said Shelley. "With Jolynn, things are transparent and realistic about expectations. Her project managers and trades people are the best, all a pleasure to work with."