2021 NKBA MN Award Winner
2021 ASID MN Award Winner
2021 Midwest Home Award Winner
Minneapolis, MN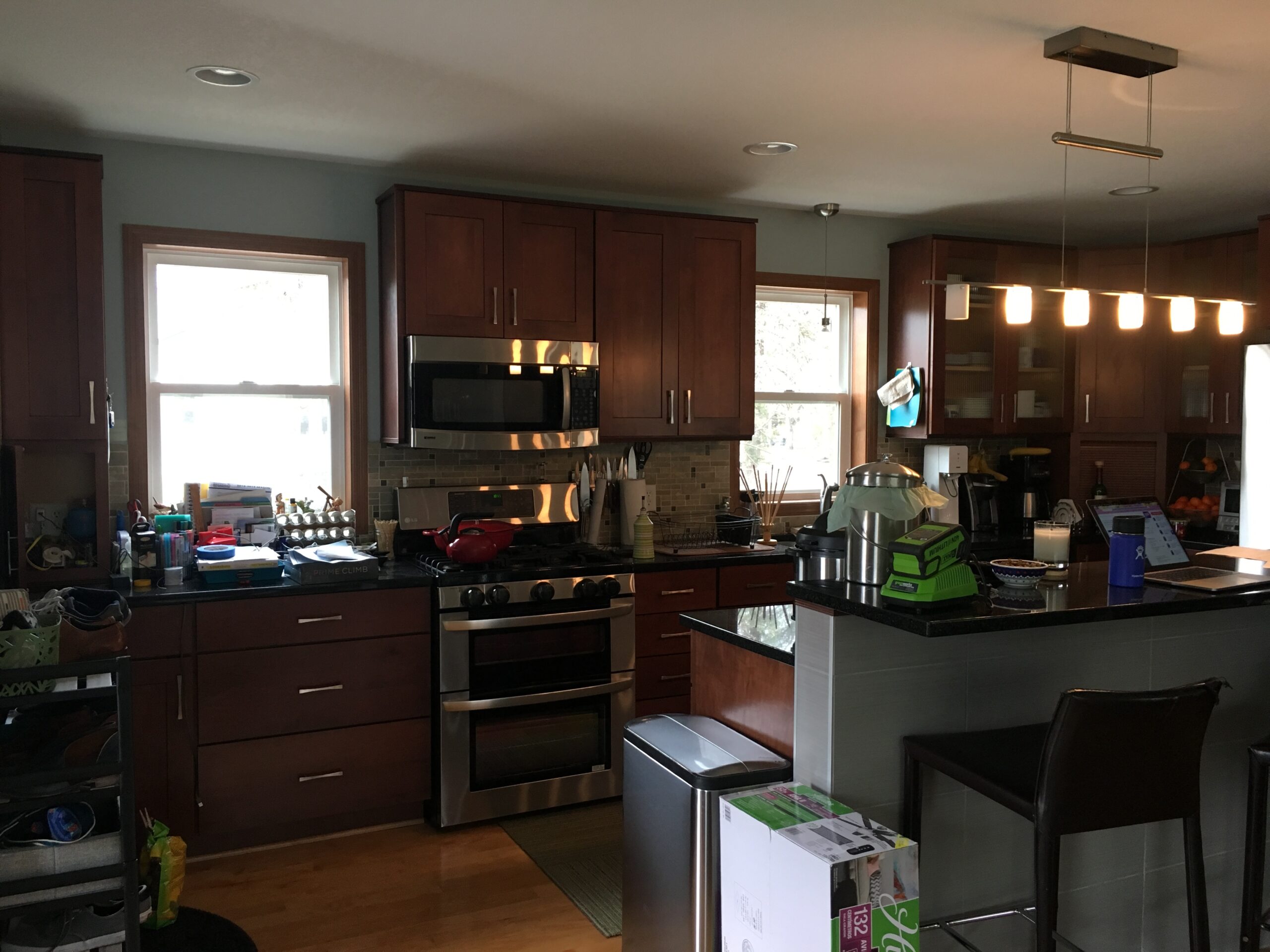 A new countertop and backsplash tile make this kitchen pop.
Potential
Create a unique tiled backsplash for the kitchen that is a work of art.
Use a local hand-made tile company.
Create a one of kind design utilizing different geometric shapes and colors of tile to coordinate with quartz countertop.
Add a new pendant light over the island.
Add gold accents.
Challenges
Most of the existing kitchen cabinetry was to remain.
New gas range and ventilation hood were to be added to the kitchen.
Needed to find a new location for the microwave, since the existing microwave hood was being eliminated.
Create a design that has a balanced look even though the range is not centered between the two windows in the kitchen.
The new custom backsplash adds interest and color to the space.
Ready to Fall in Love with Your Kitchen?
Contact us today to start the design process with our award winning team members.
Solutions
We collaborated with a local hand-made tile company, Mercury Mosaics, to create a unique backsplash that coordinated with the new quartz countertop.
To give a more open look to the kitchen and allow for a large area for the backsplash tile to be seen, a new chimney hood was installed along with two floating shelves.
Light colored tiles in subway and hexagon shapes gradually darken into rich colors behind the ventilation hood and floating shelves.
The asymmetrical layout meanders up the wall like a river of color to create visual interest and balance between the two windows.
The colors gradually fade to white, off-white and light grey behind the floating shelves, which allows for accessories on the shelves to be more visible.
Seven colors of tile were chosen based on the colors in the quartz countertop, including a deep metallic bronze color that ties in with the gold finish of the new cabinet hardware, sink faucet and light fixture above the island.
For a little bit of fun, a 3-dimensional hexagon planter tile that holds a tiny cactus plant was included in the design.
Replacing the old microwave hood is a new microwave that sets on a shelf tucked out of sight. The rest of the kitchen cabinetry was existing and remained as is.