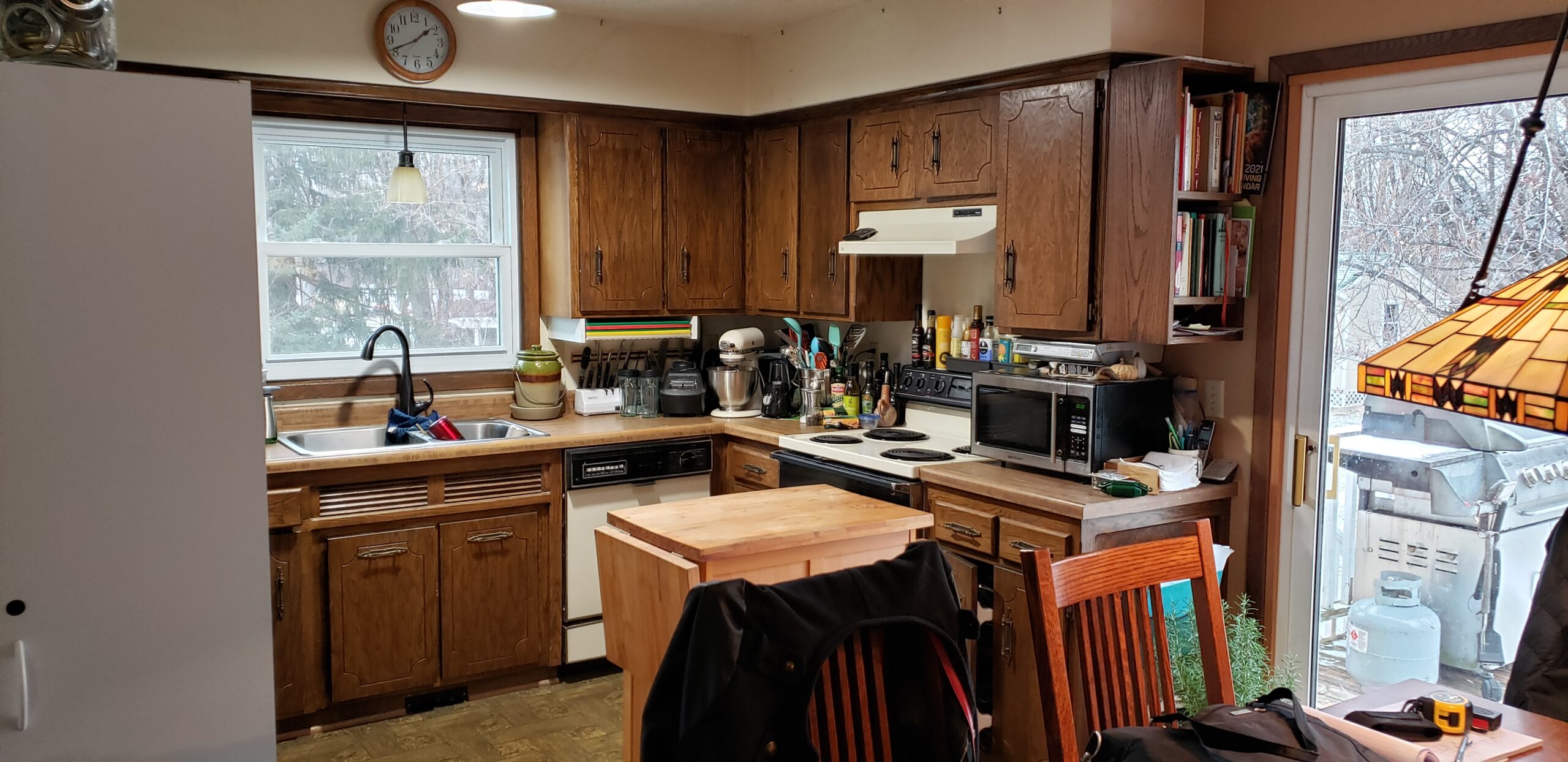 An improved layout & well thought out Craftsman details, this kitchen is one of a kind.
Potential
The homeowners wanted to build an addition to open up the possibilites for their new kitchen.
Client Requirements
They knew they wanted more storage and counterspace as well as be able to accomodate a dozen people in the space. They also wanted to make sure it stylistically matched the rest of their house and have more windows to look out at their vast backyard garden.
Thanks to an addition, this kitchen now functions for everyday and special get togethers.
Ready to Fall in Love with Your Kitchen?
Contact us today to start the design process with our award winning team members.
These homeowners have lived in their house for almost 30 years.  Over that time, they have remodeled every room except the kitchen and have always done all the work themselves.  The kitchen of their dreams was going to require an addition to the home so they decided this time they would call in a pro.
Their goals for the remodel were to add more storage, more countertops, better lighting, better views of their amazing gardens and to have seating for 12 people.  To accomplish this, we added an 8-foot addition to the back of the house, 5 new windows and a new patio door.
This was a fun project to work on because the homeowners wanted something a little different.  We incorporated 3 different cabinet colors and 3 different countertop materials.  The upper cabinets and pantries are cream, the base cabinets are a lovely green, and the accent cabinets are quarter sawn white oak in a medium stain.  The perimeter countertops are a hard waring soap stone looking porcelain.  The island top is end grain maple butcher block that you can cut on and the buffet countertop is stained quarter sawn oak to match the hutch.  In a world of white-on-white kitchens, this was a nice change of pace.
Being environmentally conscious was a priority, so this room is heated by in-floor radiant heating that was tied into the existing homes energy efficient geothermal system.  We built in a removable compost bin into the island top and designed the buffet around 3 salvaged stained-glass panels.  The addition of 5 new energy efficient windows and the solar tube over the island provide ample light during the day without needed to turn on any fixtures.
Our homeowners wanted to be involved in the project, so the husband hand crafted the banquette bench, the center section of the buffet and the clock you see on the wood hood in his personal wood