Contemporary Kitchen Addition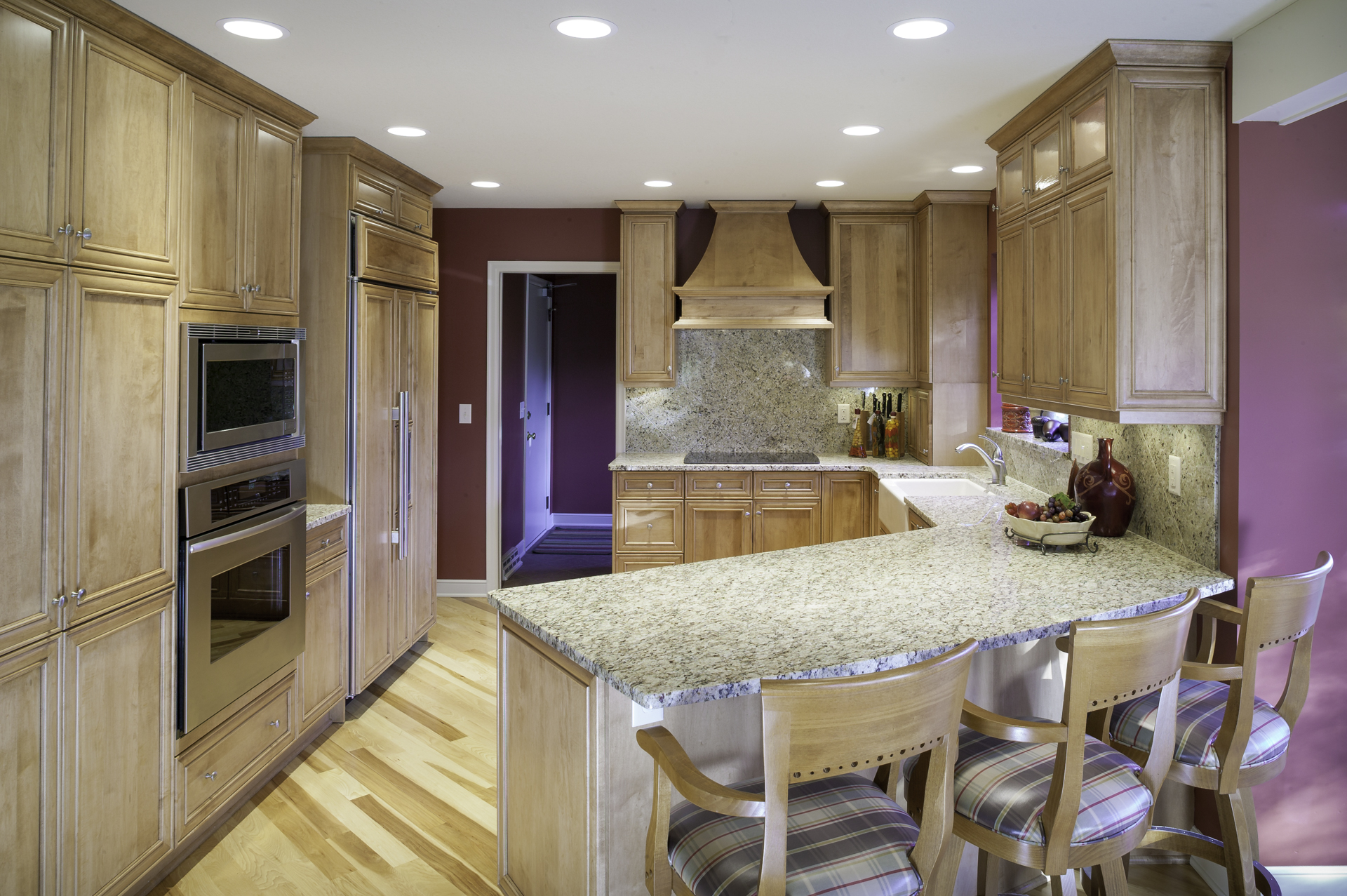 We remodeled this 1982 house in 2006 when the homeowner first purchased their home and were pregnant with baby #3. At that time the biggest challenge was to move the powder bath out of the center of the house and open up the walls for a large kitchen and family room combination. We took some space from the third garage stall and created a powder bath and walk in closet.
Sixteen years and 4 boys later, this family of 8 – with 6 boys between ages 11-21 – they needed more bedrooms and a bathroom. We started designing over the garage and quickly decided to put a 12'x 44' three story addition on the back of the house. This remodel included two bedrooms, two bathrooms, kitchen/dinette, sitting room, office, laundry room/pantry, mudroom, and ping-pong/TV room in the basement.
An impressive kitchen transformation that seamlessly integrates modern design with functional living spaces for a family of 8.
This kitchen had a fantastic head start from a previous remodel back in 2006, which opened up the space. However, our clients wanted to take it a step further. We added two structural posts to accommodate an expanded header. This change allowed us to create an inviting island that not only provides extra prep space but also offers room for six stools.
The existing maple wood floors were too beautiful to replace, so we laced into them to seamlessly blend the new square footage. The entire floor was elegantly stained grey, creating a cohesive and sophisticated look throughout the space.
The textured melamine wood grain laminate and painted slab doors for the cabinets added a touch of contemporary elegance. The Cambria Queensbury countertops, paired with a full-height backsplash, create a sleek and easy-to-maintain kitchen surface.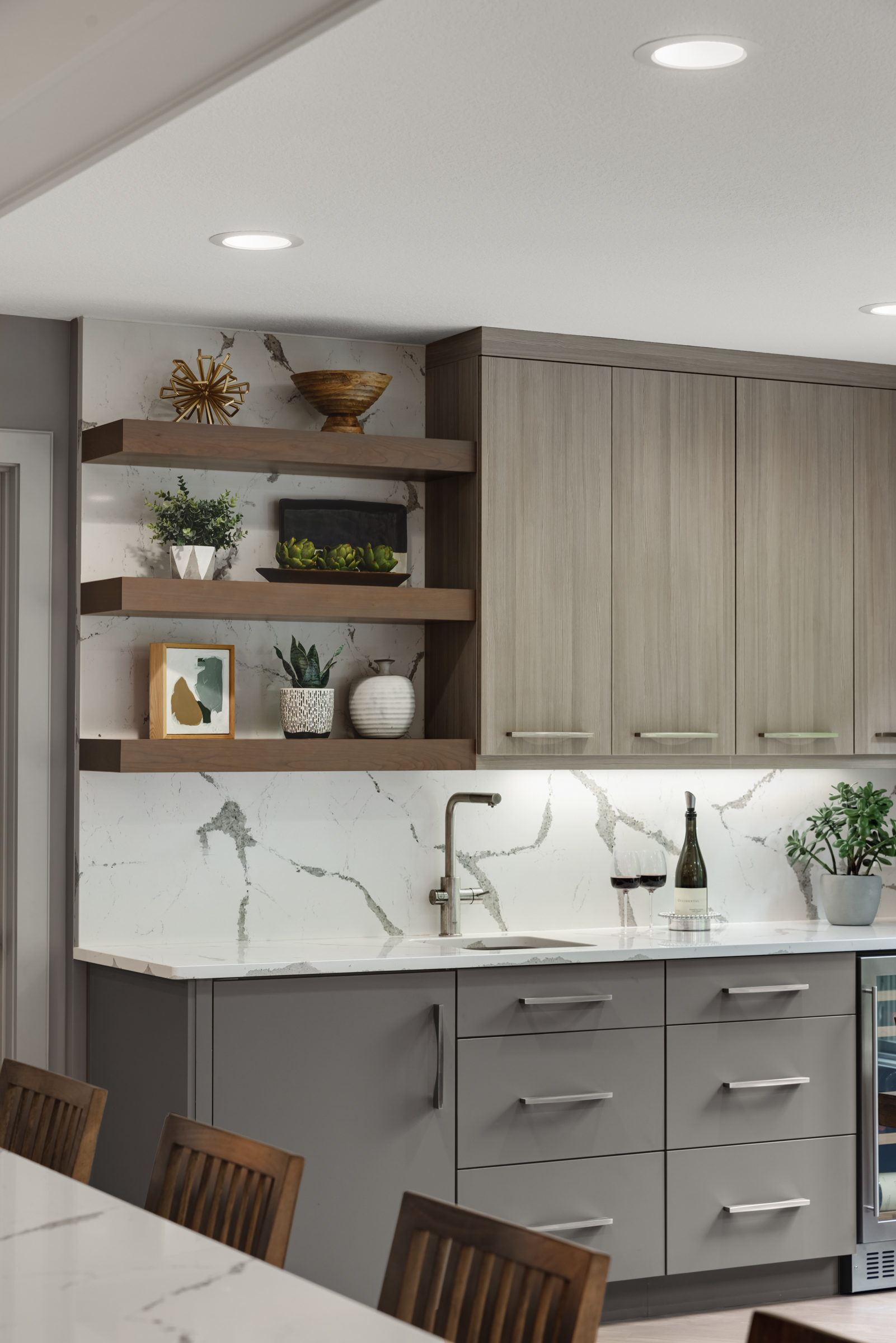 To add a touch of warmth and continuity, we incorporated floating shelves made of cherry wood, stained to match the new dining room table. This not only ties the spaces together but also adds a unique design element to the wet bar area.
A pocket door leading to the mudroom and back entry, originally added in the 2006 remodel, was kept, and a custom-built dog door made of wood and metal rods was integrated. Now, the dogs can stay in the back entry yet still be part of the family action.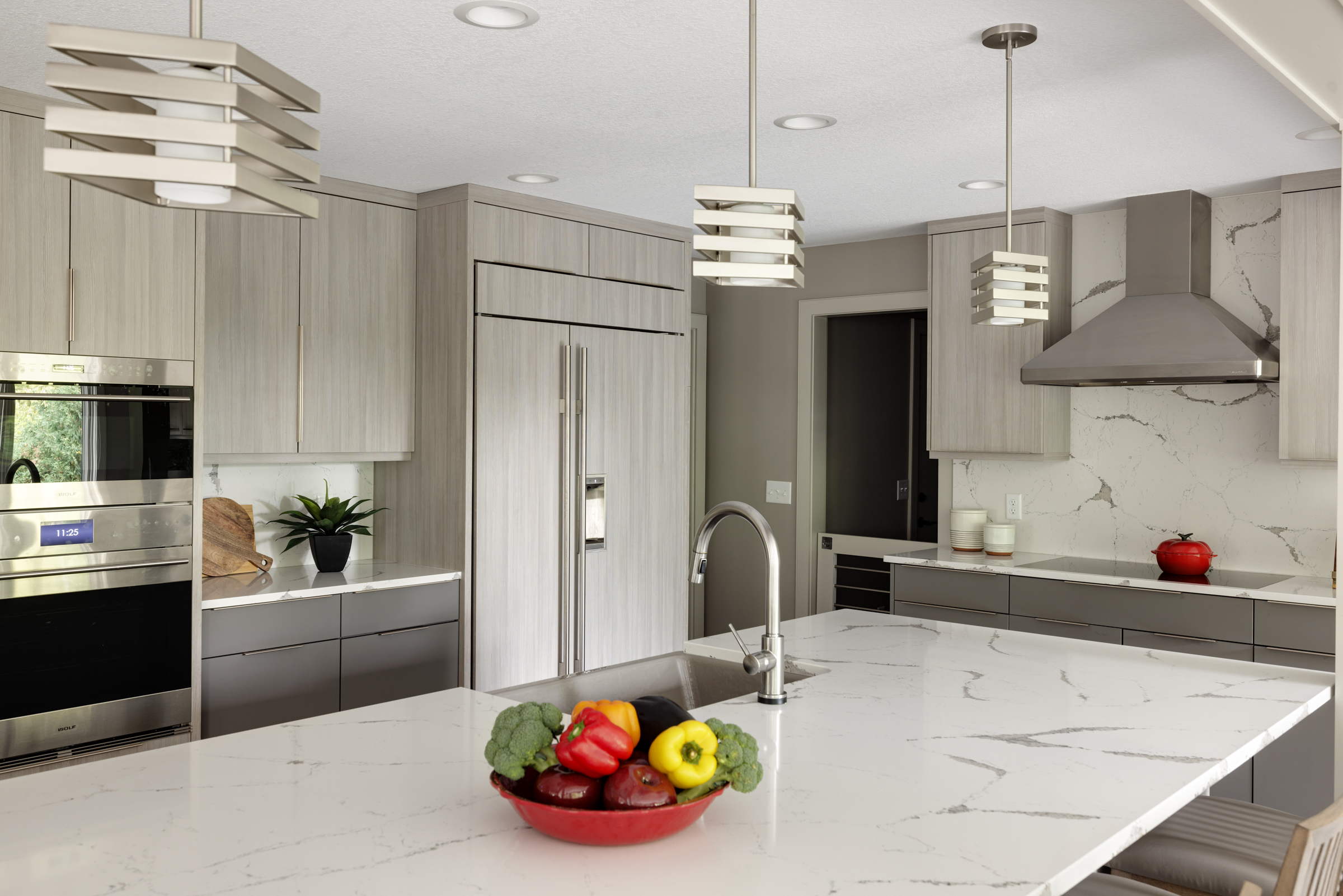 A upgraded kitchen is not complete without top-notch appliances. In this project, we installed a 48″ Sub-Zero refrigerator, oven, speed oven, beverage refrigerator, wine cooler, induction cooktop, and a decorative stainless hood. The cast iron farm sink found a new home in the spacious island, flanked by two dishwashers for ultimate convenience.
Initially designed as a dry bar, an overseas trip inspired our clients to upgrade to a wet bar. After experiencing the joy of sparkling water in Europe, they decided to bring this feature home. The custom-built Grohe faucet was added to provide non-sparkling and sparkling water options, thanks to a carbonated canister cleverly hidden under the sink.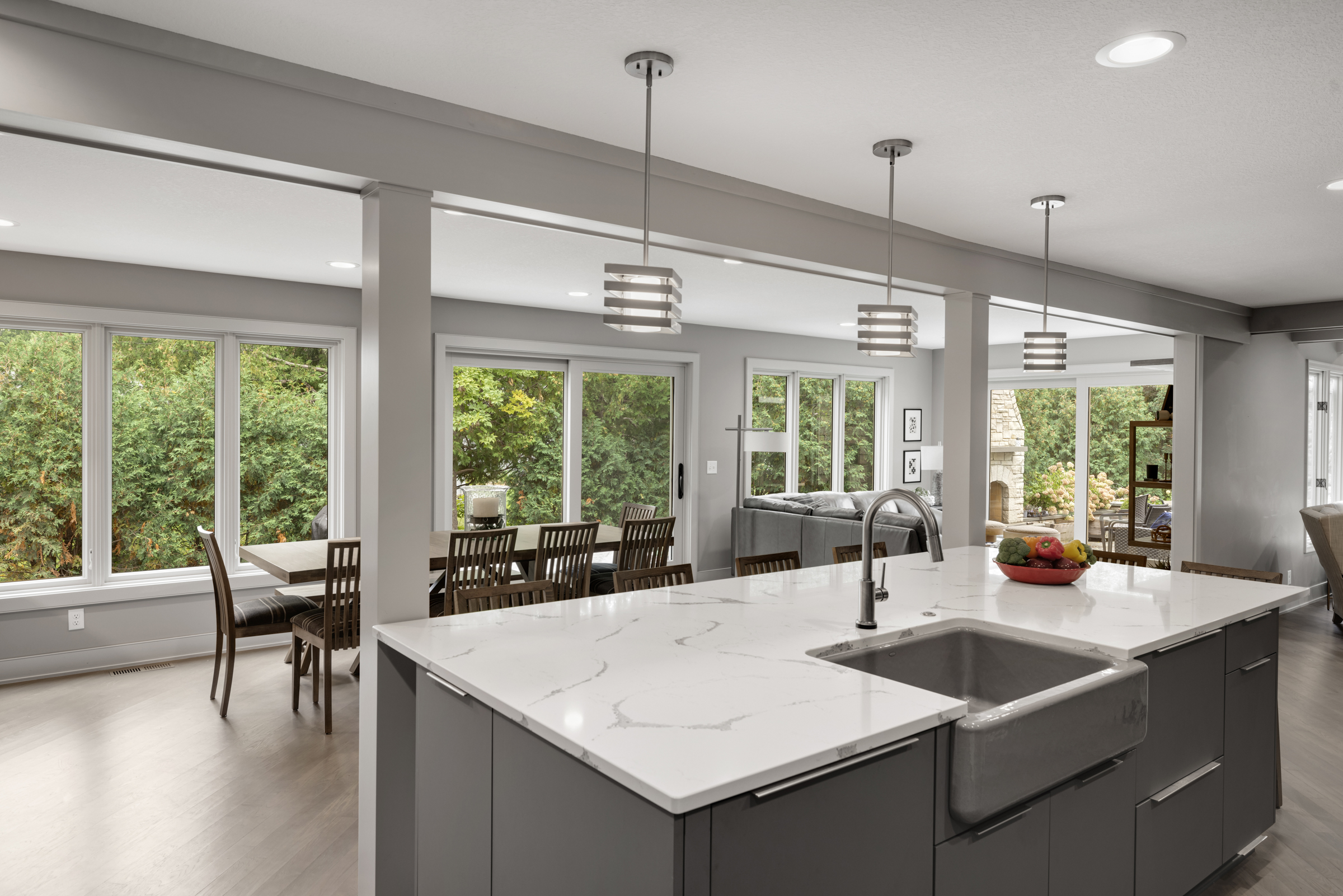 Ready to Fall in Love with Your Kitchen?
Contact us today to start the design process with our award winning team members.
New windows and sliding glass doors were installed to provide breathtaking views of the lush landscape and a stunning blue stone patio with a fireplace, seamlessly connecting the interior to the outdoors.
This project showcases our commitment to marrying functionality, elegance, and innovation. If you have a unique vision for your kitchen, our team at Crystal Kitchen is here to turn it into a reality. Contact us today and let's create your dream space together!