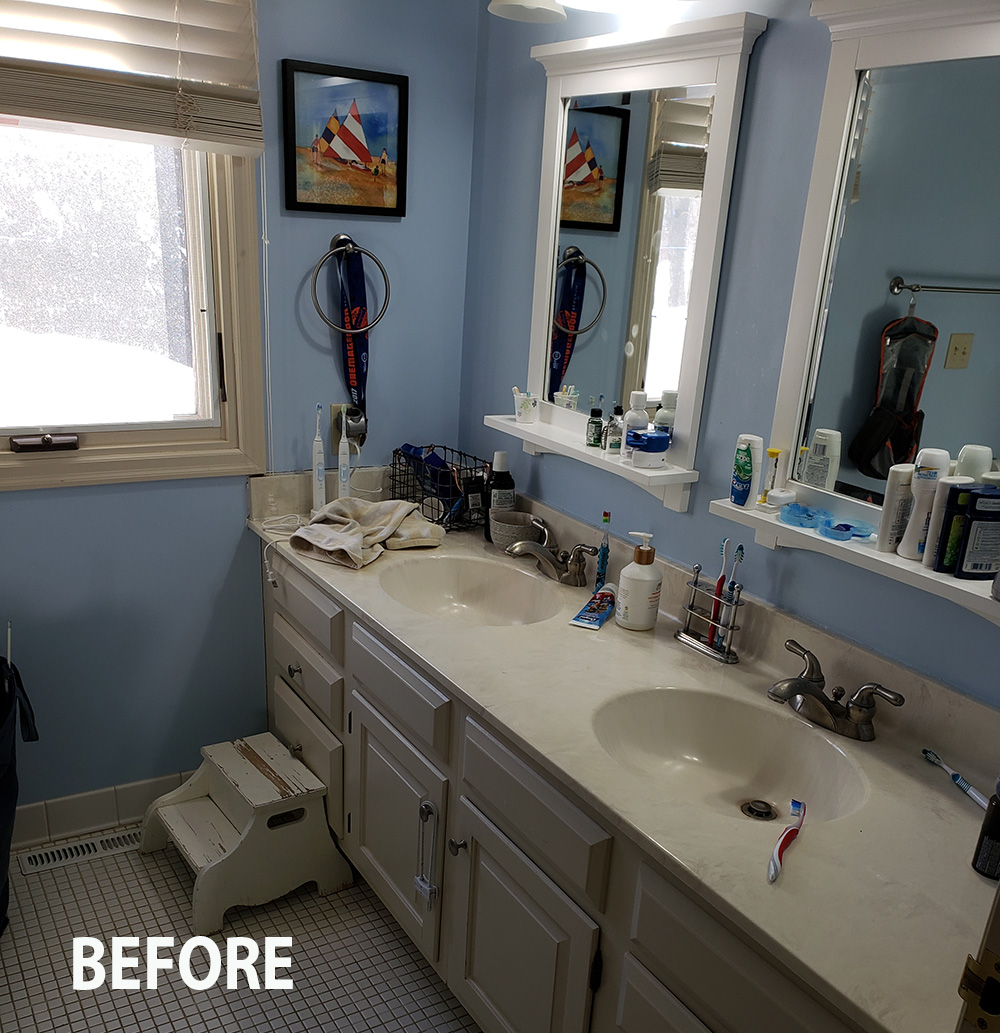 We remodeled this 1982 house in 2006 when the homeowner first purchased their home and were pregnant with baby #3. At that time the biggest challenge was to move the powder bath out of the center of the house and open up the walls for a large kitchen and family room combination. We took some space from the third garage stall and created a powder bath and walk in closet.
Sixteen years and 4 boys later, this family of 8 – with 6 boys between ages 11-21 – they needed more bedrooms and a bathroom. We started designing over the garage and quickly decided to put a 12'x 44' three story addition on the back of the house. This remodel included two bedrooms, two bathrooms, kitchen/dinette, sitting room, office,  laundry room/pantry, mudroom, and ping-pong/TV room in the basement.
In 2019 this bathroom was remodeled for the five boys to use. The window in this bathroom was closed to allow for the addition, but this bathroom was able to get an updated layout and within the addition another bathroom was added.
The homeowners' love for blue and white became the cornerstone of this bathroom's design. To achieve their vision of a ship-inspired space, we introduced a color scheme that seamlessly blended these two favorite hues. The bathroom features two sinks, each with round mirrors and three blue light fixtures, giving it a nautical charm that is both calming and cohesive with the rest of this home's updates.
The bathroom boasts a range of functional and aesthetic elements, including painted cabinets that complement the color scheme, Corian countertops that offer a sleek and easy-to-maintain surface, and a wood-grained tile floor that adds warmth and texture to the space.
The use of white and blue subway tile, wainscot tile surrounding the room, and black hardware create a nautical vibe that's not only visually appealing but also durable. Stainless faucets and hooks (rather than towel bars) are not only stylish but also practical for a busy bathroom.
Ready to Fall in Love with Your Bathroom?
Contact us today to start the design process with our award winning team members.
The nautical elegance of this bathroom is a testament to our commitment to understanding and bringing to life the unique vision of our clients. At Crystal Kitchen, we pride ourselves on creating spaces that are not only beautiful but also highly functional and tailored to your preferences.
If you're looking to create a space that perfectly suits your lifestyle, get in touch with us today, and let's make it happen. Your home should be a reflection of you, and we're here to bring your dreams to life!